"Hello, Curtains...." The first words Mr SSG uttered as I greeted him at the door after work today.
This is me. In a dress with a green and brown floral print.
This is the bottom half of my dress. Do you see curtain? In the background are the SSG Manor curtains for reference.
THIS is a lady to whom you may say, "Hello, Curtains....."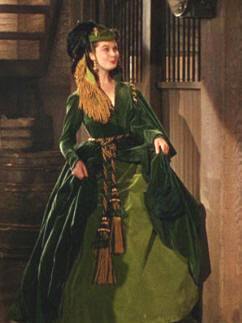 This is the one scene I remember most from Gone With The Wind. Scarlett getting a Project Runway done on the curtains at home before meeting Rhett.
Well, that was all very Go Fug Yourself. How surreal.
Hello and how are we tonight? It's nearly Friday!!
It is technically still St Patrick's Day somewhere in the world so I'm still allowed to blog about the green and the Irish.
Irish Chick Lit
This is the sub-category of chick lit I love best. It started with Maeve Binchy, then Cathy Kelly and onto the Monica McInerney and Marion Keyes. It's been a long time since the last new release from any of these ladies, and I'm getting inpatient. There's something reassuring and comforting in the prose. There's always a good balance of characters and the contrasts - between generations, countries, the haves and the have nots. Like slipping into your favourite pair of uggs - which I hope you're only using for schlepping around the house. Think of your foot arches, people, maintain those arches.
I can only ever, ever experience these novels as books. Seeing them onscreen would ruin it completely for me.
Baileys
Delicious as an ice-cream flavour, in coffee and on its own. Baileys was the first alcoholic beverage I drank... at the age of 20. I was a late bloomer.
Another of my photos from taste Sydney. Baileys and coffee - that makes it sort of Italian.....
Maeve O'Meara
There's Irish blood in Maeve. I'm a fan from the very first Food Safari series on SBS. Tonight Maeve started her Italian Food Safari. The Italian / Irish link continues.
I'm going on a Food Safari this weekend. Maeve runs a
business
which conducts various food safaris, meet the chef events and overseas and interstate trips. I wonder if Maeve will be personally conducting the tour. It will be an 'I Die' moment if she does. The tour is called Sweet Indulgences and I will be in finer than usual form afterwards. Sugar and I are good for each other's creativity.
These aren't Irish but they were delicious. It's free form alliteration I guess - Maeve, mushrooms....
Which I then used to make
this mushrooms on toast recipe
for dinner.
Look, there are spring onions visible. The green theme continues.
Alliteration is a beautiful thing in most spheres of life, but not on foxtel. It's the curse of alliteration = insulting intelligence.
Toddlers and Tiaras & Dallas Divas are two examples that come to mind. Even the names alliterate - Savannah Sprinkle. That's not a food group, it's the name of a real person. Addicted To Beauty does not alliterate but perhaps it should.
I have found inspiration on SBS. It's the series of Secrets & Lives: Disabled Bodied Sailors. The crew have won their division of the Sydney To Hobart - twice. Charting the lives of people who are physically disabled, their inner strength and their inspiring view of the challenges in life. And their crusty captain who isn't averse to dropping the 'f' bomb fast and thick. "Don't be owned by your disability, it will slow you down and my boat."
And I'm going to end it right there. Keeping it Short and Sweet. Sweet.
G'night y'all.