It was a beautiful winter's day in Sydney today.
The sun was strong enough to be felt on my face as I walked outside yet soft enough to add interest to the shadows of ordinary things on the pavement. Just looking at that yellow flower (hope it's not a flowering weed, I have done nothing to my front lawn all year so I'm very surprised there are any flowers to be seen at all) made me hopeful that summer is nearly back with us. Then again, I should learn to appreciate each season as it happens.
I'm convinced the lemon tree is looking the greener for its weekly drink of citrus food.
I stayed up last night reading If There Be Thorns, the dark and deeply twisted conclusion to Flowers in the Attic. I think back to my 14 year old self (I was in school in the late 80s and entertainment at the time was limited to the film and print media) and wonder how much of the books I really understood. Like Cleo and Cosmopolitan magazines, we read those books as a rite of passage. In private though, Dolly and TV Hits was a lot more fun and interesting.
I remember being so sure of what the adult world meant when I was in high school and how I'd deal with it. My classmates and I thought of ourselves as 'worldly and street smart' on the merit of having 'read about' the darker and more difficult parts of adult life - but not actually having any relevant experience of it in our comfortable middle class lives punctuated with a fair degree of parental supervision. Everything was clear cut with a very simple answer or choice that was black or white - the shades between just didn't exist. I look back with a wry smile on my teenage years.
I went back to the second hand bookstore today for the prequel in the Flowers series. Might be pulling another all nighter tonight.
You must all be a little bored of my outfit photos taken from the reflection of my streaky wardrobe mirror in the spare bedroom. Today, I've decided to put a door knob to good use instead.
Yes, they are the Bally boots from the
Luisa sale
at The Hilton in Sydney. Gee, that was in April too. I did a lot of good shopping that month. It's the second time I've referenced April 2010's shopping in as many days.
My favourite thing about the outfit is the dress. It's from Top Shop Singapore, circa 2008. It was a Laura Lee for Top Shop collaboration and again I wonder why collaborations with Sportsgirl aren't as good. The dress has great detail - the quirky fabrics and the embroidery. Another positive about it is that the colours black and grey are not involved. The skivvy is from Kookai.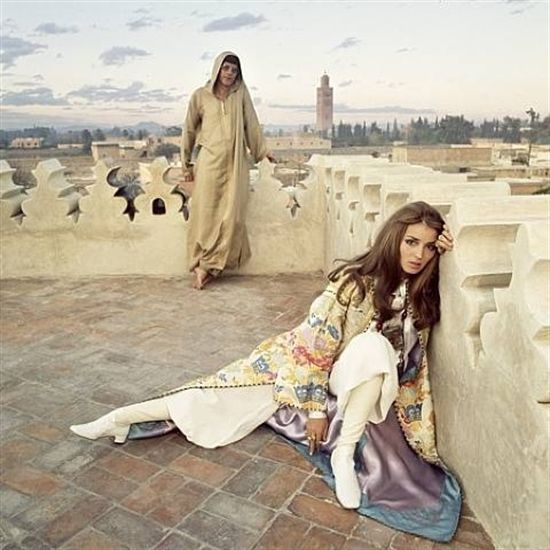 Image from elogedelart.canalblog.com
This is Talitha Getty, presumably in Marrakech in an image from one of her iconic photo shoots with Patrick Lichfield for Vogue, 1969. As a model with pedigree and good legs, she could get away with white boots and loose flowing trousers under her statement piece (real bodied people opt instead for sensible brown winter boots and warm knits). She also, presumably, didn't have to walk far either - I'd get awfully hot and bothered wearing a face full of makeup with my hair down in arid climates. How different were the celebrity couple shoots of decades past. That's Mr Getty in the very distant background not doing anything aspirational like showing us their immaculate city apartment or luxuriously appointed holiday bungalow. And they both have all their clothes on. I also have a sneaking suspicion that this is the way Mr and Mrs Getty looked in 1969 - no photoshopping way back then. The past was also a simpler time for fashion and celebrity photography.
I've just looked out the window and am now firmly back in the present. It's dark again and there's a bit of wind whistling through the trees. My hair is sort of dry from my swim this afternoon and for once, it won't be a chore to Parlux it because it gets nice and warm under its' bio ionic' (Parlux speak, not mine) blast of air. I've got the heater on and am padding around the house in explorer socks and ugg boots. The golden oldies (of the late 80s and 90s) are playing on max. There's the spare doona on the sofa and I'm going to be wrapped up in it watching The Good Wife tonight. Yes, there is much to love about winter too.