It all started when Mr SSG and I went to see Crazy Stupid Love during that wet and grey long weekend. A day and half of good good and drink had already taken place and it was now time to kick back and have a few conspirational laughs about the state of love through the ages of man from the perspective of Hollywood in 2011.
Ryan Gosling looked amazing, didn't he? I sat there in the darkened cinema with a thermos of T2 Ginger and Lemongrass tea with a dash of honey to my left and Mr SSG to my right. On date night with my husband, I wanted nothing more than to be entertained by Ryan's smooth delivery of tried and tested pick up lines and well, just look at him on screen really. Oh and perhaps wish I'd heard a few of those lines back in the day....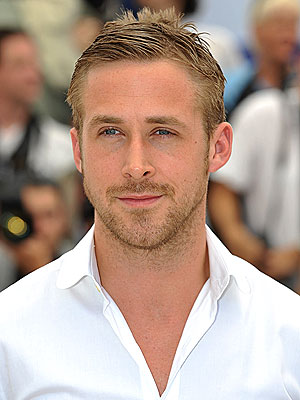 www.people.com
Unfortunately, Mr SSG didn't quite see things the same way. It wasn't enough for him to see Ryan's impressive, 'so perfect they had to be airbrushed' abs on the large screen at Hoyts. He had to take the image away with him, embedded in his memory as a motivator for what we will hereby christen 'The Team Gosling 8 Week Diet and Exercise Programme (From Hell)'. My brackets there because Mr SSG reckoned it would be a great thing to do as a couple.
So Mr SSG dutifully printed out the diet and exercise plan from his gym and even emailed me a copy. At first glance, the eating plan looked great. A plan not too far from what we were currently doing anyway:
cereal or toast for breakfast with yoghurt
lots of fresh fruit
coffee with every morning snack
afternoon snacks
stir fries, steak or fish for dinner
allowances for alcohol Friday - Sunday
free options for weekend meals.
Mr SSG had his last supper of carbs on Sunday (pasta bake and most of a box of Arnott's Shapes) and hit the ground running on Monday. I had an internal gloat about how close my day time eating was to the meal plan anyway (give or take a Lindor ball here and there, okay, well, everyday) and we left it at that. Just fruit for afternoon tea? I think I could manage that in this warmer weather.
Dinner on Monday was where it all came unstuck really. While I was off enduring the rigours of a full yoga class, Mr SSG read the fine print of our meal plan as he set about getting his own dinner. Yes, steak or a stir fry was fine for dinner. With 2 glasses of water if you were really starving, perhaps. But ... a baked potato or a serve of boiled rice were both conspicuous by their absence. Mr SSG's personal trainer was not mucking about. This was no typing error. No carbs after 5.
It was one of Mr SSG's most impressive WTF moments. 400g of scotch fillet and 2 cups of frozen vegies later and Mr SSG was still not full or happy for that matter. There was also the small matter of 'boring' fruit in season at the moment, how 'I'm not really a berry man' and how 'things had better improve when stone fruit are in season'. The path to attaining Ryan Gosling's abs is not an easy one.
So here we are on Tuesday, day 2 of carb deprived Mr SSG. I've got some salmon and asparagus ready for dinner. I've taken the laundry off the line, I've taken in the mail and I've not left my shoes anywhere a carb deprived person could trip over them and break a bone. I might even put the sport on Foxtel when Mr SSG walks through the door.
I've put my thinking cap of and have hatched a plan. I'm going to trade my alcohol allowance for carbs with dinner and a small piece of chocolate with lunch. Mr SSG was going to ask his trainer about this but the gym was packed with like minded men getting their assessments done for the beginning of The 8 Week Challenge. I suspect quite a few of them have been called to action by watching 'Crazy, Stupid, Love' with their partners on that fateful long weekend.
It's going to be a L-O-N-G 8 weeks.
gossip.whyfame.com
Ryan, in some ways, my life would be so much easier right now if you'd kept your shirt on for the film. Like you are doing here with Eva Mendes. Slightly off topic, but I think it bodes well for the relationship that this was the best photo I could find of the pair. There's something about red carpet couple shots that is poisonous to a celebrity relationship...
In happier news, my first ASOS order arrived today. I will do a review tomorrow. Hope everything fits. If not now then perhaps in 8 weeks post the Team Gosling Diet.
There was also sun and warmth today. Time to dustbag my black handbag and get out the oak Bayswater.
New dresses to play with and a change in handbag. Happy Days!