It's a bit of a non event kind of hump day in Sydney today. For a start, the rains have returned. Also, we have been snubbed by yet another foreign dignitary. First it was the Queen and now Barack Obama. I've been making do with
live feeds
from the papers to get the latest. It's all looking like something out of a Hollywood drama. The cars, the security, the aircraft, changing the 'toilet' signs in Canberra to 'washroom', closing the coffee cart at Parliament House(!!).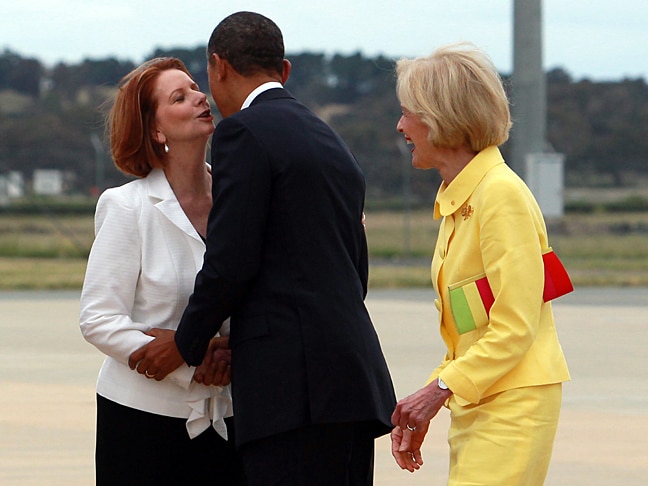 Image courtesy of www.sbs.com.au
I know there are practicalities and time constraints to think of but I'm so disappointed that the spirit of AUbama will not be coming our way. Sydney is a city that secretly gets a kick out of traffic chaos, lock downs and motorcades. Incidentally, I am loving our Governor General's chic citrus coloured suits.
Excuse the clumsy segue, but I wonder if the PM and GG get spa manicures in the lead up to historic meetings? Well groomed nails do wonders for the self confidence. Especially if, like me, the rest of you is ravaged by hay fever. At the moment, it's taking a Claratyne a day to keep me looking and feeling vaguely human.
Mr SSG's arm almost turning into road kill on the Melba Highway.
Whilst we were away, Mr SSG and I decided to do the country club thing at
The Sebel Heritage
, Yarra Valley. The official line is that because there wasn't a gym where we were staying and because we had a high chance of being road kill if we tried to go running on the Melba Highway, we really had no choice but to get our butts to the closest gym (and day spa) in order to make some room for the food that seemed to just find us wherever we went.
The Sebel Heritage isn't just a hotel, golf course and day spa - it's a gated community. The freedom of the country side stops abruptly at the heavy duty entry gate. Past the gate, it's all manicured lawns, immaculate modern villa houses and preppy country club types. I'm not joking, Mr SSG aced the dress code for Friday morning golf with a pair if pressed cream trousers and a tasteful polo shirt. 2 of the boys in his golf group were turned away at the door as they had 'external pockets on their shorts'. Cargo pants, even if they are designer, are strictly banned at the golf course.
Thankfully, I was wearing my trusty athletic gear at the gym (no external pockets) and got in a pretty good work out on the machines before my spa appointment. It was a fully appointed gym with a 25m lap pool and superior toiletries in the bathroom. Superior because they were fig scented!
Showered and relaxed and possibly just a little hungry, I retreated to the day spa waiting room to get in the zone.
And drink copious amounts of yulu detoxifying tea. I think I need to drink more detox teas and less champagne back here in Sydney.
The spa mani was amazing. I barely felt a thing and probably fell asleep for half of it. When I did wake up, I had 10 perfectly painted fingernails in one of those fabulous OPI reds.
I think it was the extra half hour waiting for the mani to dry in the spa cafe that made all the difference to its durability.
I might have been chilling out country club style but those hands were busy.
Transporting a post spa mocha into the cup holder of our rental car.
Making a cup of tea back at Chateau Yering.
Reading the blog on Mr SSG's Ipad.
Running a bath before dinner.
And my nails are still going strong today. Spa manicures are the business. I have a presentation tomorrow and I am sure that my nails are more than up to the job. Have to go read up and prepare some more.
Take care and talk soon,