It's less than a week until the London Olympics begin!
The down side is that with the time difference, the opening ceremony is going to start at around 5.30am AEST on Saturday July 24.
While the athletes will have their PBs (personal bests) and the Olympic records firmly in their minds as they march in the ceremony, I will only have one PB on my mind - Kraft Whipped Peanut Butter . It's made in Canada and does have a different taste as well as texture to Australian made peanut butter. It seems a little more salty than our locally made version. It's also easier to spread on toast. How can I not feel like an Olympic athlete as I munch whipped peanut butter and honey on toast come dawn this Saturday? Kraft is an official partner of the Australian team.
I'll come clean and confess to you that the main reason I want to watch the opening ceremony is to get an early look at what the Duchess of Cambridge will be wearing. She's always so well put together and if I can improvise her look on the day around my bump, I'll be giving it a go for sure.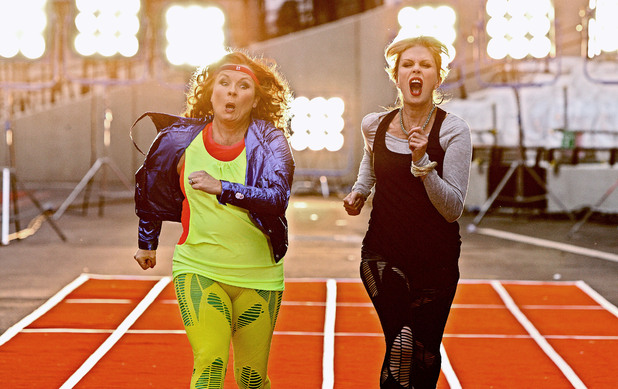 www.digitalspy.co.uk
I wonder if she'll be embracing the designer athletic look like Edwina and Patsy? The Ab Fab Olympics episode is airing on the ABC this Thursday. I've read that Stella McCartney will be making a guest appearance.
Jacket - Zara, scarf - Liberty London, scarf ring - Mai Tai Collection, necklace - Red Phoenix Emporium.
Or will she be rocking a commemorative Liberty print? I bought this scarf earlier this year in London.
It's the Big Ben print which was released to commemorate the London Games and has the cities of the Commonwealth who've hosted the Olympics around the border. I love the edgy colours. It's the perfect Olympic option for those of us who still have reservations about wearing sports luxe outside of an exercise related context.
I'm limbering up for the start of my bakeathon tomorrow night.
I've got some Coke Zero for energy.
And a lucky packet of Olympic Oreos most of which will hopefully end up in the cheesecake rather than in my mouth!
I know I said last week that never would be the next time that I'd be watching The Shire but the television is calling my name right now.... I need a distraction.