I don't think my 45cm tall Christmas tree can survive have another decoration hung on one of its magical, colour changing disco branches.
Every time I walk out of the house these days, I seem to return from my travels with yet more tree
bling - Coles, $2 stores, you name it, I've scoured it for cheap tree thrills. What our little tree lacks in height it definitely makes up for with personality. There's festive glitter, festive shimmer, festive symbols of the snow and.....
an out of proportion tree top star to top it all off. I'm telling you, oversized tree toppers are the way forward this Christmas. The way forward.
Front of the bus chic, with the sun streaming over me - necklace Red Phoenix Emporium, the current Nature in Neon collection, T - Isabella Oliver Maternity.
Speaking of moving forward, I seem to have hit a reserve supply of energy in the last couple of days. Why, just yesterday, I found myself off the sofa, dressed and ready for a day out in the city. Sitting there in the sunny section of the bus seemed to recharge my batteries because I covered a lot of territory during my little outing.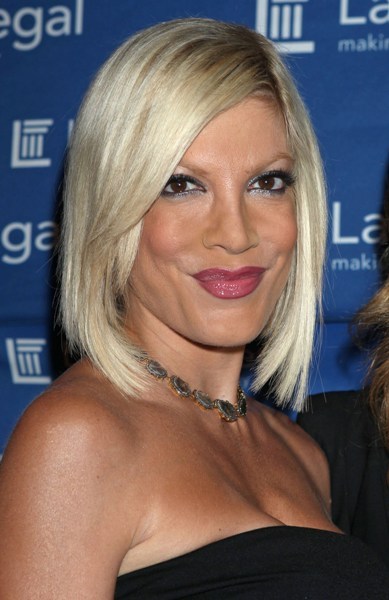 www.sheknows.com
First up, I went to the hairdresser and Tori-fied my hair. I'm just slightly obsessed with the way Tori Spelling rocks that long bob of hers. The length is great because you can style it up, wear it as is or even tie it back but not have the hassles of having to spend hours blow drying. Bobs also have a bit of inbuilt root lift at the crown. Long hair just seems to make me look like Cousin It these days....
Then I got some fresh air under my favourite umbrellas in the whole CBD, the ones at The Galleries.
You must be sick of my photographing them everytime I'm there so I now present you Umbrellas 2.0 courtesy of the very cool
MarbleCam app
for iPhone. It's free and has given a new lease of life to my photos.
Then it was a walk down to China Town in search of Daiso. It's been ages since I last visited a store. My curiosity as to whether Daiso would be doing Christmas made me persevere with trying to find the store front on George St. It was actually hidden from view by a maintenance crew and their large truck. There didn't seem to be any street signage for the store however when I peered into the doorway that my iPhone map indicated, I was rewarded with the familiar Daiso sign and a pretty sleek stair case leading to a $2.80 per item Aladdin's cave.
My question was answered practically from the moment I walked in, wheeling my tiny, Daiso plastic trolley. Santa, his reindeer and Frosty the Snowman were all waiting for me on the shelves.
Daiso tree decorations, as seen through MarbleCam.
There were tree decorations (and mini trees) aplenty. How could I not buy a string of bells to drape over my tree as well as some cheeky red hearts?
And then there was the food aisle. Which I don't think Daiso have at the Chatswood store.
Made from fruits growing under the shining sun....
The two small cans of drink I bought are still in my fridge because they look to cute to open. Also, treading the label that states that "This is made from fruits growing under the shining sun" always puts a smile on my face when I open the fridge door.
I could have spent hours deciphering the labels of the biscuits as well as the next section which stocked nori, condiments and noodles. Next time.
In other Sydney CBD news, Haigh's has opened at the QVB. The new store is airy, spacious and air conditioned. Just the place to be in summer.
A large Christmas pudding graces the front window that overlooks Town Hall across the road. I found a few Christmas presents as well as a bag of dark chocolate peppermint frogs for Mr SSG and I.
Should there be any contest between stone fruit or a Haigh's frog for morning tea at this time of the year? This close to Christmas, having both is the obvious choice.