I put my game face on yesterday and hit the shops in search of some non maternity denim. As much as I love an elasticised waist, the time has come to venture back into the real world of zips and buttons.
Fortunately, it wasn't quite as traumatic as I feared it would be. I came home with enough bottoms to tide me over until my regular denims can button at the waist. I wonder how long that's going to be......
Over at Big W, some of the Emerson range was reduced to clear. I managed to find these last season 3/4 skinnies for $7 a pair.
I caught the tail end of the sale at Sussan which meant a further 25% off already reduced prices. One of the perks of getting to the sales weeks after everyone else, I suppose. Anyway, at $32 a pair, I was finally able to say yes to watermelon pink and printed skinny jeans.
It's a big day for Baby SSG. He got baptised.
He went for a simple one piece baptism outfit. You can't go wrong with a white short sleeved body suit. In triplicate, just in case of accidents prior to the big moment. We were up to suit number 2 by the time it was time to leave for the church. At under $9 for the three at Big W, it was money well spent.
I dressed up his baptism candle with a blue ribbon.
And wore my trusty Rosie Pope silk floral shift dress to keep some consistency in the colour scheme.
I'm a bit biased but Baby SSG put in a star performance at church today. He slept quietly through the homily and didn't even flinch during his anointing or when Father dipped the back of his hair in water. I think his serenity came from all that practice with our daily baths at home as well as the soothing tone of Father's voice.
The rest of today is going to be pretty cruisy. I've just had a walk and my brother is coming over for dinner tonight. I'm thinking Thai home delivery.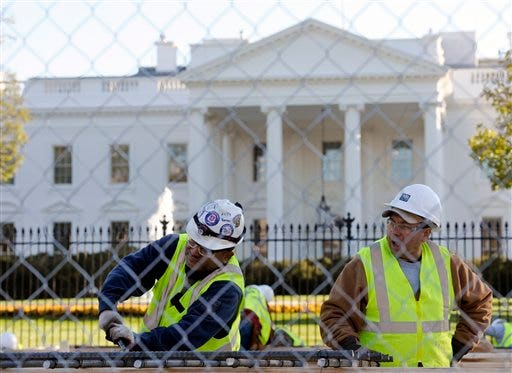 www.foxnews.com
Today was the official inauguration for President Obama in Washington however the major events were rescheduled for tomorrow due to January 20th falling on a weekend this year. I haven't found any photos from today's low key event but I'm thinking that there will be thousands online after Monday's proceedings.
Beyonce will be singing
the national anthem at an event and I can't wait to see who and what Michelle Obama will be wearing. Oh and yes, the President's speech will be as eloquent as usual.
Take care and here's to Sundays spent with family.