Good very early Sunday morning! It feels like the old days for me. A bit of time to myself, a large mug of tea (double tea bag) and the hankering for a bit of lightweight celebrity inspired blogging....
I've written about this strangeness before, I'm sure. The fascination that some adult women (myself included) have with the life and style of well connected toddler girls.
It all began with Suri who's been a bit quiet of late. Presumably because Suri's a big girl now and a bit over the limelight and is seeking refuge and a solid education at her school in New York.
I think Harper was the one who gave the junior fashionista frenzy traction. It's not about toddler heels, luxury cosmetics (there was an article once that detailed Suri's beauty regime) or kooky dads with the youngest Beckham. Basically, Harper seems to be leading a normal toddler life which happens to involve her mum and dad taking her to work.... front row, next to Ms Wintour at New York fashion week.
I have S to thank for introducing me to another toddler fashionista.
Meet Aila....
carriesgal blog
who's so cute she has her own Facebook page and gets mentioned in the
NYFW write ups
in the mainstream press.
Do you reckon Harper and young Aila Wang caught up at NYFW? Aila is Alexander Wang's four year old niece and she's a regular fixture at her uncle's shows. She gets photographed by the fashion press and her uncle designs outfits for her based on his runway collections. She's just too cute.
style.mtv.com
Here's Aila wearing her version of a Wang dress worn by Karlie Kloss. I'd actually wear Aila's dress. I love the idea of comfort footwear with high fashion dresses and Chanel handbags. Aila's hair is also very doable. I'm sold. I never really saw myself as a Wang kind of girl but this summer, I'm going to get myself some black Nikes and see if Zara has anything Alexander inspired.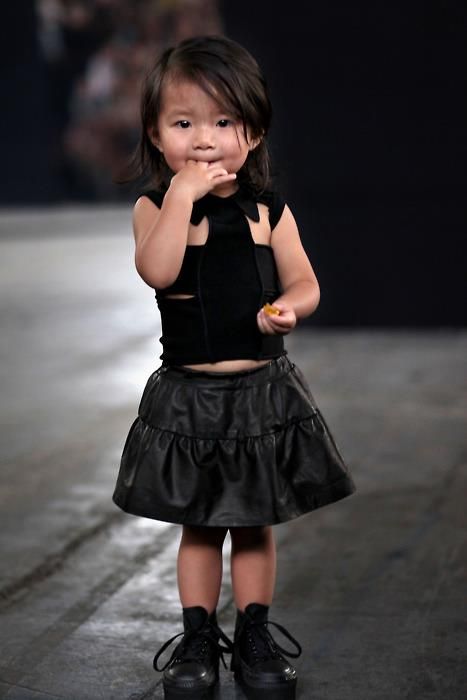 thatschic.net
Here's my crack of dawn crazy dream. That when Harper and Aila grow up, they go off to fashion school in New York together and share an apartment while they're studying. The apartment would be the New York base for Harper's brothers too and possibly the Jolie Pitts. Needless to say, they'd all be too cool to accept offers of a reality TV series based on their lives. Should Prince George ever be in town, he'd give his Uncle Harry the slip and crash on a sofa at the apartment.
On graduating, the girls then start their own label, let's call it Harpaila which would have a design aesthetic that would cater to women of their mothers' age who love a good monochrome outfit... but with sensible shoes.
And on that note, happy long weekend Sunday!