It's been a while since we talked fashion on the blog. So much has been going on that I've found myself sticking to a rotation of tried and tested outfits. And then the mid season sale emails started hitting my inbox...
www.metalicus.com
Which is how I found my new favourite little black dress. It's from
Metalicus
and is called the Estelle. I love the scoop neckline and the details at the sleeve. But most of all, I love the price. $39 down from $139.95, Metalicus have a new click and collect option on their website so if something is sold out online you have the option of buying and the picking up at a store that does stock the item. Unfortunately, the option doesn't seem to involve being able to do inter store transfers so if you love something that's only in stock interstate, it wasn't meant to be.
Metalicus dresses are my favourite thing to pack when travelling. The fabrics hold up well to suitcase living and they're just formal enough for my purposes when abroad. They're very kind on the body that's overindulged in holiday eating and drinking too. And when you get home from your trip in a fog of jet lag? You can just pop them straight into the wash, hang them out to dry and then hang them in your wardrobe immediately. Completely bypassing the iron.
I'm planning to bring this dress along with me on my forthcoming trip along with some of my dresses from past Metalicus collections.
www.frankie4.com.au
The Jen boot in black smooth leather - $275.
Nikki
and her blog,
Styling You
have long been style inspirations for me. Nikki always seems to post solutions to whatever fashion crisis I'm having just when I need them most. This week was a case in point. I've been pondering the Chelsea style ankle boot for months now. Ankle boots are everywhere this season and the current season's styles look great with dresses and skirts. The challenge for me was finding a pair that would be comfortable enough to wear all day at work. Nikki's post on
Frankie 4's new season boots and shoes
answered my prayers.
www.frankie4.com.au
The Liz boot in black oily nubuck - $285.
Frankie 4 are a Brisbane based shoe brand designed by a podiatrist and physiotherapist. Shoes in the range are rubber soled with all leather uppers. Each pair of shoes also comes with a variety of insoles to add to the already strategically cushioned foot beds of each pair of Frankies which you can add according to your foot concerns. This season's design challenge was to create a comfortable heeled boot and there are two designs in the collection that fit this brief - the Liz and the Louise.
After much deliberation, I settled on the Louise because of its slightly lower heel and black heel. I'm not sure if I can really pull off a wooden heel. Nikki has a code SYLOVEF4 that entitles you to $20 off a pair of Frankie 4 shoes when ordered from the website. The code is valid until April 9 2015.
Customer service is very prompt and helpful. My email was answered by the end of the day that I first sent it. With regards to size, it was suggested that I choose my US running shoe size. There is a 30 day change of mind policy with each pair of shoes sold.
I will let you know how I get on when my pair arrive.
I've had an eyeliner epiphany. And most excitingly of all, it's involved items I already own.
www.sephora.com
This Bobbi Brown fine eyeliner brush (which you can get for $35 at DJs)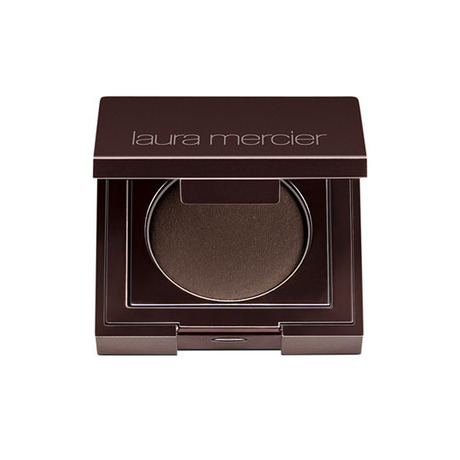 www.vanitytrove.com
when used with this Laura Mercier caviar eyeliner (which I cannot find online anywhere in compact form right now - does this mean that it's discontinued!?!?) gives me good daytime semi winged eyeliner every single time. And on both eyes to boot. I've had this eyeliner for years and it hasn't dried out. The colour lasts all day and doesn't flake or smudge.
How's your autumn / winter wardrobe shaping up? Found any good buys recently?
What's your favourite item of clothing to pack for work related trips?