So much time between posts and so much to talk about.
It's just been busy, busy, busy for me. Work, deciding what to wear to work, keeping the house running / standing, keeping up with Toddler SSG and remembering to breathe.
The one thing that's keeping me sane and functional right now is that little window of time each day to zone out, move my limbs just for the sake of moving them and not having to think of anything but counting reps. On the road pram running with Toddler SSG, at the gym or at home - I've had to be creative with my fitness but the good thing about that is that I haven't had the chance to feel bored with anything because I'm doing something different each day. And the best thing of all? I have no choice but to take those deep, deep breaths that keep me both calmer and, in the context of exercise - alive.
While I've been busy being busy, all sorts of things have been happening around the world.
The Greek referendum
on how to manage their debt crisis going forward has happened and things still look uncertain and frightening for everyone involved. I can't imagine what it would be like to not be allowed to withdraw as much of my own money as I'd like from an ATM or the cold, sweating fear of being overseas and having all your credit cards declined because they were issued by a Greek bank.
The Fourth of July was celebrated in fine form by some of my favourite musicians.
www.themalaymailonline.com
Michelle and Barack
got to see Bruno Mars perform live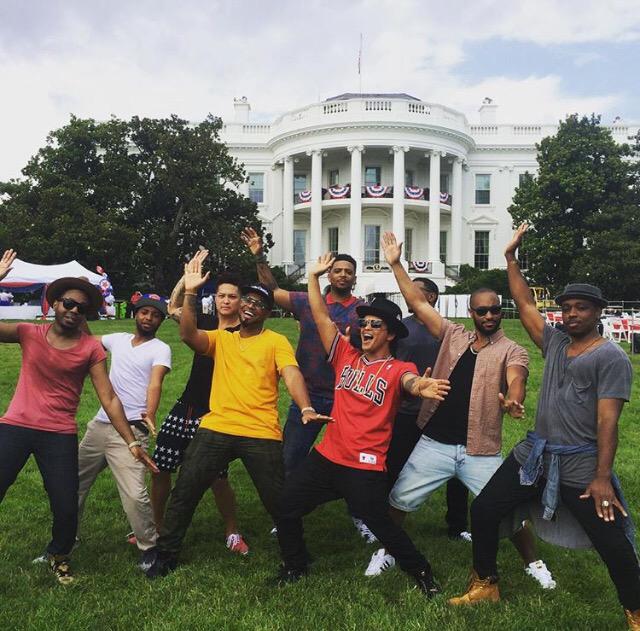 Instagram
while Bruno got 'All up in the yard like Nae Nae' and shared it with Instagram.
Instagram
Taylor Swift
had Ed Sheeran over for her party
Instagram
and also made an
Ina Garten flag cake
. I wonder if Taylor wins gold for being the most patriotic celebrity (with the most famous friends) for Independence Day 2015?
I observed America's Day with a nostalgic repost on Instagram and some chatty emails with my travel buddy about our next trip over. It's never too early to be starting a countdown to that next Stateside trip...
In the absence of any actual celebrities at my place, I made do with these two all American stars of the pantry instead - Sweet Baby Ray's Barbecue Sauce and French's Classic Yellow Mustard. And together we made a large batch of slow cooker pulled pork. The recipe is from a Slow Cooker Recipe page on Facebook.
All you need to add to your pork roast in the slow cooker is:
1 sliced onion
a tablespoon of oil
1/2 cup apple cider vinegar
1/2 cup chicken stock
1/4 cup brown sugar
1 T of Worcestershire sauce
1 T mustard
1 T chilli powder (I substituted thyme)
2 crushed garlic cloves
I slow cooked for 6 hours and then removed my pork. It shredded with ease under two forks. I then returned to pork to the sauce in the slow cooker, stirred through and let it heat for a little while.
Made it with:
1/2 cup mayo
1 1/2 T lemon juice
2 T white sugar
1 T vinegar
salt and pepper
Ate both with wraps. Sorry no photos of the wraps - we were all so hungry we just dug in the moment the food hit the table. The pork was delicious. Tender, salty yet sweet and not fatty at all. The three of us got through half a leg roast among us. The leftovers are going to make some yummy and quick mid week dinners.
SSG Manor is looking eerily spotless as we gear up for the next few months of upheaval, change, goodbyes and hellos.
Better late than never, but the Manor kitchen has finally become my mother's kitchen with this $35 Aldi convection oven (or 'turbo broiler' as my mum calls her's).
Convection ovens are a mainstay in Chinese kitchens. They basically do the work of conventional wall mounted ovens but are easier to clean and are a bit of a space saver. They heat up pretty quickly too. The only negatives are that most ovens have timers with maximums of an hour or so which can make slow roasts tricky. Also, the size of the oven 'bowl' may preclude you from roasting larger cuts of meats in one. I've heard that you can also bake with them but haven't done it myself.
At home, we mainly used ours for reheating small serves of frozen food, roasting chicken pieces and getting the crisp into the fatty rind of Chinese roasted pork.
www.ponpeko.me
Which some might say is the best part of the dish.
It's early days yet, but I'm loving my Lumina Convection Oven. It has a maximum timer setting of one hour and gets up to 250C. It's very easy to use, just turn the dials to your desired temperature and time and you're good to go. The handle has a safety catch that will only allow the oven to start when it's fully depressed.
The unit doesn't make too much noise and the flashing light that goes on during operation is a very hand visual reminder that it's actually on. It's like sharing the kitchen with a space ship which is does add a nice bit of theatre to dinner prep which can get a bit touch and go with a toddler in the vicinity.
My test meal of a fancy fish finger fillet and hash brown cooked and browned evenly in 15 minutes.
Going back in time to before dinner and the convection oven testing, I got a bit of cabin fever from the fervent house cleaning at around 3 pm yesterday and took myself and
Toddler SSG's leftover from breakfast
my banana mini muffins to the local shops for a bit of afternoon tea.
My first ever foodcourt Priceline flat lay - Evian spray - $13.99 (for toddler dental care... don't ask), Nuxe dry oil - $13.99, Maybelline Super Stay lipsticks - $18.99 each).
I won't deny it, retail therapy was also involved.
The Nuxe oil is to replace that Claudia Schiffer hair essence that sadly hasn't done any of its promised illuminating to my hair. The Nuxe sprays like a perfume and has a warm herbal / floral scent. More importantly, it's made my hair feel softer and look healthier already. You can also use it as a body oil which I haven't tried yet, have you?
Observing Dry July with Maggie Beer.
Twitter put me onto these Maggie Beer sparkling non alcoholic wines which you can get at
Dan Murphy's
for under $12 for a pack of 3 piccolos. I've got them in the fridge and I think there's enough for one for each night of the next few weeks' home opens....
www.news.com.au
One last thing...
Prince Charlotte's Christening
. The traditional pram, Prince George's scene stealing, The Duchess of Cambridge looking as immaculate as ever....
www.dailymail.co.uk
and a bit of fashion controversy. Did Pippa purposely 'upstage' her sister by wearing a similar outfit? The etiquette experts have
had their say
about it was an avoidable mistake and the gossip columnists have had a field day too. I think they both look beautiful and I'm not sure that there were many other appropriate colour options open to Pippa for such a formal and special occasion.