You know you're in for a lovely easing into the weekend kind of Friday when The Daily Mail provides you with some superior 'What Kate Wore' photos.
www.dailymail.co.uk
The Duchess has been making the fashion front page this week with outfits she's worn for public engagements commemorating the UK visit of President Xi Jinping and Madame Peng Liyuan. My favourite of her two most talked about looks is this lace dress by Dolce and Gabbana. It's the colour I'm loving the most. It's an unusual choice for lace dresses these days which heightens the impact of what looks like a run of the mill (if D&G could ever be accused of being 'run of the mill') formal frock to make a statement whilst playing it relatively safe.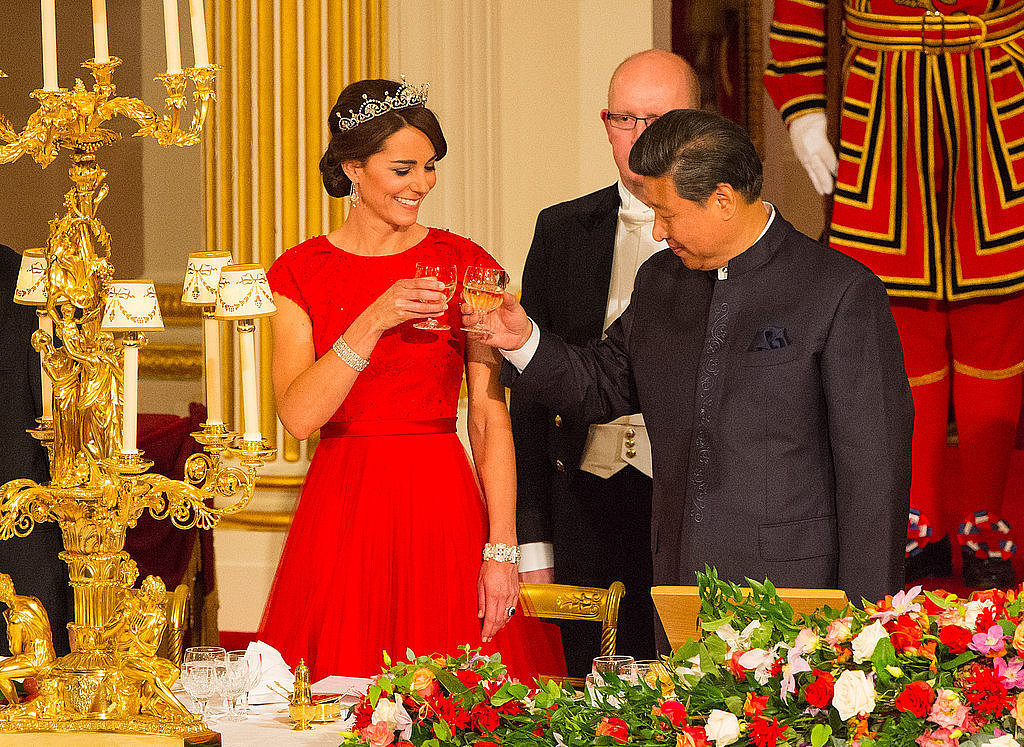 www.popsugar.com
Kate favourite, Jenny Packham, created this red gown for the formal State Dinner to welcome the Chinese president and his wife. I don't know. It's just plain old safe to me. I haven't seen a full length photo of the dress, though, but I'm just feeling 'safe' from what I've seen. Purposely so, I suppose, given that the dress is in competition with that beautiful family Lotus tiara and some pretty spectacular arm parties. Best not to try too hard when you're bound to compete unsuccessfully against the power of the rock.
www.bluenile.com
Speaking of jewels, I've just successfully placed an order with
Blue Nile
and it was such a lovely experience, I thought I'd briefly discuss it today. Buying myself a right hand ring has been on my bucket list for quite a while now. But I've never quite been able to justify it before now. Then I turned forty, managed to achieve some personal goals and in the process found myself both more resilient and in a better place than where I was even a year ago. If all of the above wasn't enough reason to 'treat yoself' as my friend
C
is wont to advise and encourage me, then I don't know what is.
So treat myself I did with a piece from Blue Nile. As luck would have it, Blue Nile recently ran a 15% off promotion so in a case of right time, right place, I placed an order for a ring similar to the one pictured above. I'm going to spare you photos of my new bling because my career as a hand model is officially over before it even began. Veins, saggy bits and weird discolouration from the veins and work related injuries have left me with hands that no amount of photoshop could transform. And yes, there's no point posting a ring action shot if the photo makes everything featured look like crap. Maybe I'm being too hard on myself. Aren't hands notoriously difficult to photograph? Or was that draw?
I went with Blue Nile because of their solid reputation online and the ease of communicating with them from Australia. More importantly, they had what I was looking for without the sting of paying for a brand name or trademarked design. I found their site very easy to navigate and that all the information I needed about various ring options was clearly explained. They also have a service where you can order plastic ring sizers to help you decide what size to order.
With regards to shipping, Blue Nile give you the option of paying taxes (namely the good old Australian GST) through an affiliate firm. I prepaid the tax and had no hold ups with my purchase through Australian customs. It took four days for my order to arrive and I'm so delighted with my ring that I've worn it with my pyjamas, whilst doing the housework and when I'm supposed to be wearing it - out and about.
Included in the parcel (along with sturdy dark blue presentation and storage boxes) is a valuation certificate. It's not an independent valuation from what I could see but it was in Australian dollars and was a dollar value about a third more than what I paid. I haven't bought jewelry in Australia so I'm not sure if this price difference is standard practice or not. Perhaps a reader might like to clarify in comments.
So, all in all, I'm a very happy customer. Long live the right hand ring! And I hope this review has been of help to you if you were considering a Blue Nile purchase.
As we inch ever closer to the weekend, I'm keeping an eye on the weather forecast and hoping that my opening my bottle of Beach Walk yesterday is a good omen for the weekend weather. This was a purchase from Sephora on my trip to New York this past June. I'm not sure if it's available in our Australian stores.
Toddler SSG and I felt like we were part of Noah's ark yesterday as we pottered around the house while the rains fell all day. From puzzles to DVDs and from books to colouring in, we managed to fill our day but we'd rather be out at the Night Noodle Markets this Saturday if the weather permits.
Do you wear a right hand ring? Is yours attached to a memorable period of your life?