It's not been the most exciting lead up to a Federal Election, Australia. Admittedly, it was a big ask to have Mr Shorten and Mr Turnbull come up with internet breakers / meme generators that could compete with Brexit or The Donald but I'd secretly hoped something would've happened by now.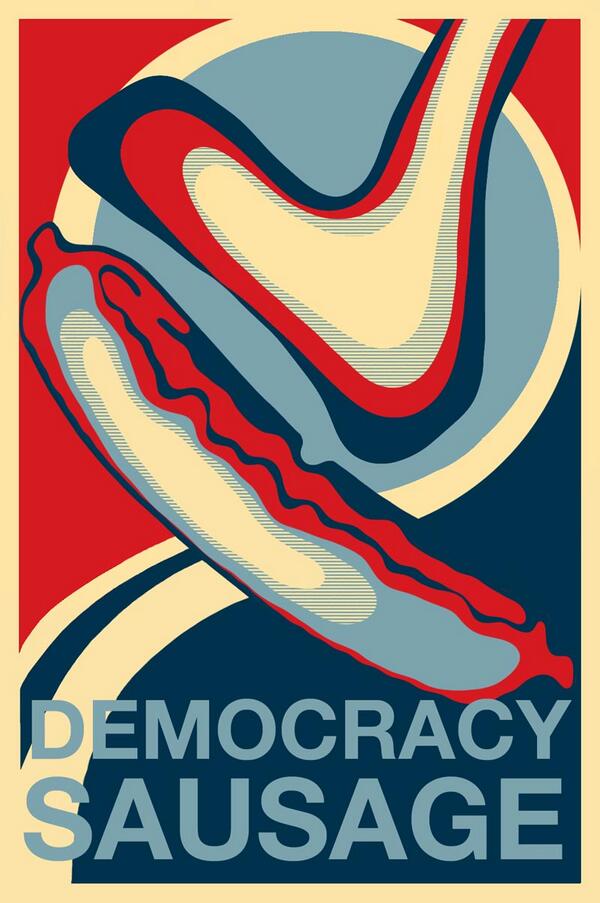 via Twitter






Thank goodness, then, for our fellow Australian voters and their passion for the best part of election day... the sausage sizzles and cake stalls held at polling places.
www.owler.com
Democracy Sausage
is the official website of the Council of Australian Sausage and it's an invaluable, real time map of what's on offer at polling stations all across the country. There's a legend featuring self explanatory symbols to help you decide where to go to cast your vote plus extra notes about additional events that may be held on the sidelines too. I'm ecstatic that my local primary school will be offering cake, sausages, a coffee cart and a market. Having my say on what's forecast to be a
cliffhanger between the major parties
, getting breakfast while I'm there
and
contributing to school's fundraising - I like the way our elections roll.
The first day of a new financial year always fills me with the resolve to spend smarter and to spend only on what I need. It's early days yet but I think I've nailed the spend smarter thing.
I found this lip gloss at Chemist Warehouse yesterday. It's from budget brand W7 and it's called Squeeze Me. The packaging describes the finish as vinyl gloss but what I was most intrigued about was the brush tip applicator. A $4.99 lip gloss with the bells and whistles trappings of their more expensive competition? Of course I gave it a go.
The shade I bought was Nearly Nude. Application wise, it was as easy as its name suggested. I squeezed the barrel and gloss came through to the brush easily. It was easy to apply and seems to be wearing pretty well so far (still wearing traces of this morning's application at lunchtime despite having had a coffee and a banana). The tackier texture hasn't dried my lips out either.
I think I've found myself another star performer W7 make up bargain in their Squeeze Me lip gloss.
www.musingsofamuse.com
Stila's Lip Glaze (which I think W7 has quite heavily referenced for Squeeze Me) retail for $32 in Australia right now but I don't know if I'd get six times as much joy or performance for it's 600% price difference.
www.seventeen.com
And it goes without saying that I'm not even close to the demographic for Kylie Jenner's lip range. It apparently
sells out
as fast as it gets restocked anyway.
www.instyle.com
Back to Chemist Warehouse..
via iTunes
I've just discovered how handy their smartphone app is. It's free to download and use. Besides enabling you to shop from the app, it also contains useful health and drug information (including a tab for you to enter medications so you don't forget to take them each day). There's also the option for your scrips with Chemist Warehouse to be stored in the app so you know when you might need to refill them. You can even order repeats from the app too. To sign up for the prescription service, register in store and wait for the text message that contains the code you need to enter into the app.
Party feet - leopard print flats from Ecco.
I can't comment about Offspring from Wednesday night because I was (excitingly) out on the town. I caught up with some girls from work at
The Gretz
in Enmore.
Stopped to say hello to La Liz on the way....
Much cava was sipped and many big issues were explored. We also had the most amazing tapas featuring foods I normally avoid. Who knew haloumi and olives could taste so delicious when crumbed and fried?
Motivated by the real woman fitness inspirations of my Instagram, I've been embracing 'leg days' at the gym. And wouldn't you know it? It doesn't just mean you get to wear your favourite leggings to train in for the day. I'm quite enjoying doing leg curls and extensions. Do you have any other exercises to recommend for leg day?
It's been all about the scarf for me since the temperatures dropped to (what I consider to be) freezing. Chunky knit scarves on the weekends and hastily draped over coats for the drive to work and heavy silk scarves in lieu of necklaces at work. I've ended the week in colour with the Zabavushka scarf from the good old House of H. It's an oldie but a goodie and as I edge closer to that 41st birthday of mine, I'm holding that thought nearer and dearer to my heart.
Have a lovely weekend and may the sausage sizzle and cake stall game be strong wherever you may be voting tomorrow.