Heeeelllllloooooooooo!!!!!! I'm bellowing because it's raining so hard around here I don't think you'd be able to hear (okay, read) me otherwise.
We're in the midst of another
east coast low
and pops of colour in the landscape of grey black skies and inky puddled roads are few, far between and savoured when they're chanced upon.
The papers are full of department store ambassadors looking flawless in nautical two piece swimsuits one minute and like perfection the next dressed in floral frocks with deconstructed bouquets woven through their hair. Here in the world of women with a limited fashion vocabulary (I've written in bold italics the extent of mine) it's been another week of tall black boots and sturdy monochromatic pencil skirts. The boots were a recent find from Ozsale, a mere $125 postage included. I'm having a dangerously successful run with Ozsale right now: everything I've ordered in recent months fits like a glove. The cycle needs to be broken soon....
The SSG bathroom cabinet is loving Urban Decay's Naked 3 something chronic this week. It's only Wednesday but the love is real.
You might remember that back in March, L'Oreal's La Palette Nude in Rose had the title of MVP in my eye shadow collection.
Five months is a long time in the world of eye shadow. L'Oreal's rose themed palette is a sold performer for its price but over the months, I've noticed that colour pay off is moderate and colours tend to get a bit muddy and indistinct when blended together. They also tended to go a bit chalky on my skin after a few hours. The months that I've used the rose palette confirmed that the colour family is one that works for my skin tone and wardrobe I just needed to find an excuse to splash some cash on some Urban Decay.
My birthday came and went, several long days and nights of work and parenting were survived with relatively good grace and voila, the need for some new eyeshadow in my life was created.
The eye shadows in Naked 3 look pink, rose gold, mid brown and egg plant purple on my skin while La Palette Nude Rose ran pink, taupe and grey toned purple on me.
Performance wise, I'm going to have say that you get what you pay for with these palettes. Urban Decay applies true to the shade in the pan and there's more colour pay off. The finish, while shimmery, doesn't look frosty when colours are applied with a heavy hand. I also find Urban Decay easier to blend into something that looks vaguely professional at the hands of a novice. The smoked up eye liner look for day I love (black or similar eye pencil with a dark shimmery eye shadow smudged over the top) definitely looks the business with shades like UD's Darkside or Blackheart from Naked 3 while results can be unpredictable with L'Oreal.
Despite all this almost evangelical Naked 3 love, I still have a place in my heart for good old La Palette Nude Rose and her sister in Beige. The LPNs are great for travelling with and they already have reserved parking in my suitcase for me next trip. That reminds me. I need to plan another trip. Somewhere, anywhere. I've just got my wanderlust back.
It's not often I've got the scoop on major beauty news but when I think I do, I like to link and share....
www.chicprofile.com
Prepare yourselves emotionally because Urban Decay is debuting a new addition to the Naked family this September (US release date, fingers crossed Mecca Maxima jumps on board soon after). It's called
Naked Ultimate Basics
and is a collection of twelve all new matte eye shadows. I've suddenly realised at the ripe old age of 41 that my frost and shimmer days are seriously numbered so I will be following this release with great interest.
www.chicprofile.com
Here are some press release photos of the new colours thanks to the interwebs.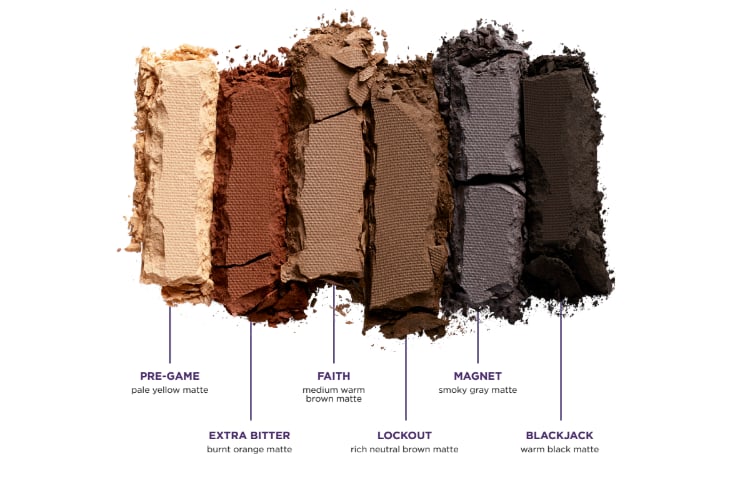 www.chicprofile.com
Are you and Urban Decay Naked fan? Which is your favourite so far or do you try not to play favourites? Liking the new all matte direction the series is taking?