It turns out that spring isn't all sunshine and flowers after all. It's also windy days. The kind that are presently whipping up a storm of pollen at my place. Fortunately, I managed to get onto the antihistamines early this morning so the sneezes and skin burning is all under control. But it's been a brutal and sudden introduction to this spring's pollen load all the same.
Which is why Preschooler SSG and I are bunkered down at home today with all the doors and windows closed as I try to stay as still as possible throughout our program of carefully selected indoor activities. I won't lie I'm a terrible artist.... andtheDVDplayerisallreadytogo.
In the spirit of it being a low activity day, I'm tapping out this blog post in the only corner of the dining room that's not covered in tissue, construction paper and glue. And with it being spring, my thoughts have turned to what I'm going to be wearing as the weather warms up....
It's not often that I go off the beaten track when it comes to fashion but when I do, I like to do it with vivid colour, embroidery and a reference to the traditional dress of a culture far removed from my own.
www.matchesfashion.com
This summer, I am feeling the pull of
Vyshyvanka embroidered blouses and dresses
. Specifically the beautiful examples of Vyshvanka by leading designer Vita Kin whose designs are on sale through
Matches
who (rather temptingly) ship to Australia and who (rather disturbingly) offer the option of purchasing in Australian dollars (which makes everything look as expensive as it actually is, 'price in Euro' denial was such a beautiful thing...).

www.marion-heinrich.com
Why blend into a sea of Camilla on the catwalk that is Woolies on any given morning this summer when you could make a statement in Vita Kin? Going bare shouldered in a kaftan has its drawbacks. Like catching a cold from staying too long in front of the open ice cream freezer or from hovering too long in the cheese room. Dressed in a Vita Kin linen dress, you could get the ice cream, cheese and still be warm enough to brave such areas as the beer fridge at Dan's.
The fabrics from which Vyshyvanka are made also look as if they'd stand up to a lot more daily living than delicately embellished silk. I like the way the model in the above photo has been styled - atheleisure trainers juxtaposed on the traditional cut and drape of her gown.
Only thing is, these are the shoes around which my off duty summer wardrobe is going be styled. The question of the season is this - Birkis and Vita Kin? Yay or nay? Were the national fashion treasures of Germany and the Ukraine meant to even meet like this?
I had to replace my Birki wardrobe this week because the strap fell apart on one shoe and the other pair has worn through in the sole. A new pair of that summer classic - white Madrids. And a pair of black leather Arizonas because all the cool kids were wearing them two summers ago and it's only just struck me that I rather like them myself. As an aside, I can't rate the service at
Bstore
online highly enough. The team are lovely and go out of the way to make sure each and every order is both correct and in perfect condition when it ships.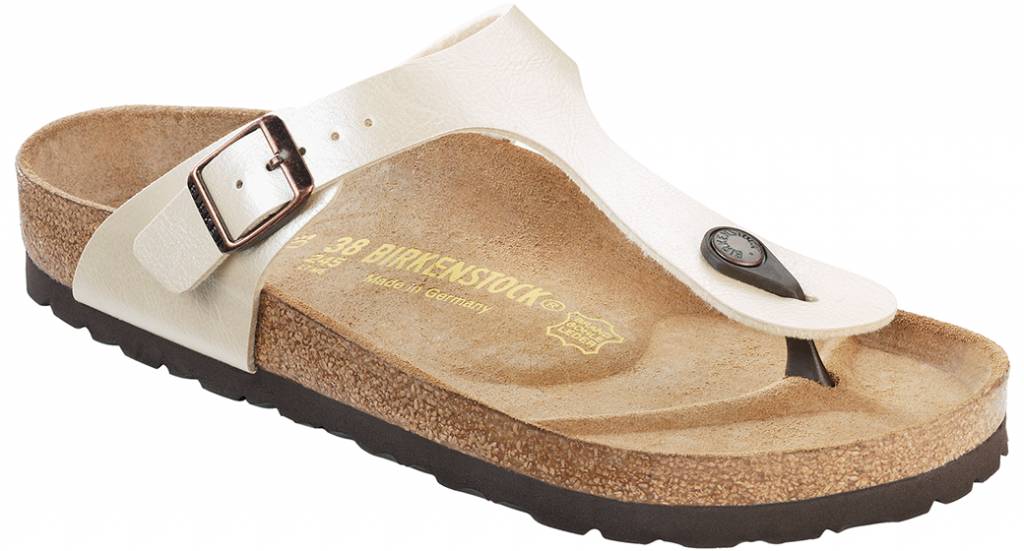 www.birkenstockshop.nl
I first started wearing Birkis in those simple days that were life straight out of uni in the early 2000s. I had a rainbow of Gizeh sandals I'd wear all summer long with flared geometrically patterned skirts or cuffed sass&bide jeans.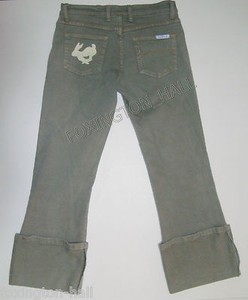 via ebay
Remember the Mr Saggatini jeans, anyone? Do sass&bide even do jeans anymore?
Before I plunge into the world of Vita Kin, I might pay a visit to Zara to see what they've got in the way of pieces inspired by Vyshyvanka. And I'll make sure I wear my Birkis to try things on with.
Have you started thinking about summer dresses yet? Do you own any Vyshyvanka?