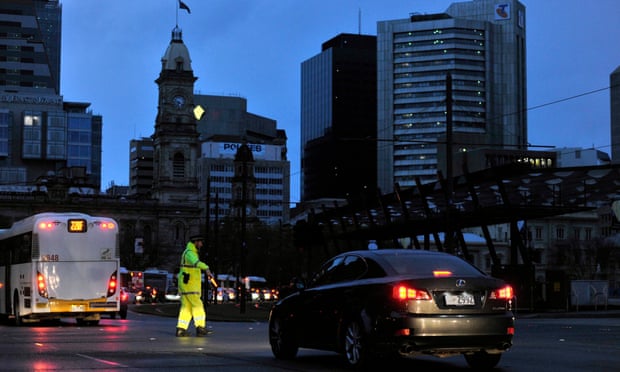 www.theguardian.com
South Australia,
Do take care and I hope you managed to get home early and that the house is well stocked up with the essentials.
The weather here's been just a fraction of a percent of what's hit South Australia. Just enough wind and rain to keep us on our toes about being safer drivers and keeping our gardens free of loose items that could become lethal projectiles. And just enough to make me recheck the torches and chargers.
We've regressed back to some favourite foods of winter thanks to the weather today. Baked Granny Smith wedges tossed in cinnamon and sprayed with a bit of oil are always great straight out of the oven.
And, of course, our perennial favourite - the cheese toastie. Looks like this weekend's sandwiches are going to feature custom bitten cheese slices thanks to Preschooler SSG.
www.amazon.com
I had a bit of browse through 'Things We Love' (a Kate Spade coffee table tome) today.
The book is a tribute to key elements of the Kate Spade aesthetic. It's the perfect kind of book for a browsing. There's not too much text interspersed between hundreds of images of New York City as well as archival images from previous Spade campaigns and collections.
Preschooler SSG will be accessorizing with abandon this summer thanks to my good friends at Crocs who love a licensed chilidren's shoe as much as I do. Dory and Lightening McQueen. That's a dream summer of shoes right there as far as Preschooler SSG is concerned.
A very familiar print from Kate Spade... I have a pencil case that features these confetti like lights. It used to be an amenity kit but it does its new job really well too.
www.hiphop-n-more.com
Short of reasons to continue your Netflix subscription? Be at a loose end no longer because
Jonathon Demme's new film
about Justin Timberlake on tour debuts October 12. It's a Netflix exclusive and I'm going to dedicate an entire day off (and some bargain priced champagne from Dan's) to watching it, I think.
www.emilymandel.com
I've also got a fascinating read to share.
'Station Eleven'
by Emily St. John Mandel. Twitter suggested it to me a few months ago and I've only just discovered my download of it on my Kindle.
'Station Eleven' has been classified as sci-fi by many reviewers but to me, it's 'futuristic literary fiction'. Actually, perhaps that should be post apocalyptic literary fiction because the world of 'Station Eleven' is one without technology as we know it now. A mysterious flu decimates a world at a time much like our present. Jeevan is in the audience of a performance of 'King Lear' when the terror begins and Arthur Leander, the lead actor, dies on stage.
Life after the death disintegrates rapidly. People start dying of the flu in their hundreds then thousands then millions. There is no electricity, there is no fuel. There is no one left to repair or produce those essentials of life in the late 21st century. There also isn't much law and order either.
Twenty years after the epidemic, Kirsten Raymonde lives a nomadic lifestyle touring around fragmented communities of survivors with a troupe of performers who presents various plays of Shakespeare to their audiences. Shakespeare is popular because of its beauty and place in history - a comforting time well before the era of the terrors the audiences have survived.
The 'Station Eleven' of the title refers to a series of comics that Kirsten treasures from life before Year Zero (the onset of the flu). They were written by Miranda, Arthur's first wife. Kirsten is obsessed about Arthur and his life as documented by the celebrity magazines. She keeps clippings about him that she collects from the abandoned houses she and the troupe sometimes pass on their travels between performances. It turns out that Kirsten was a child actor who was part of the cast when Arthur was performing as Lear that night he died.
Mandel writes with this dark, slowness that subtly intensifies as her various interrelated plots intersect. The time shifts between Year Zero and Year Twenty (the present day where adult Kirsten is touring with her troupe) are managed skilfully. There are references to characters and events that neatly stitch things up between the eras.
As I've probably mentioned in previous book reviews, I'm not a science fiction fan but there was something about 'Station Eleven' that grabbed me.
Have you read 'Station Eleven'? I understand Mandel has written several other novels that have a similar feel, theme wise. Which would you recommend next?