First order of business in today's post though....
The Australian Lamb Council (at least I think that's what they're called) have just released their 2017 'We Love Our Lamb' advert. Over the years, the ad has gotten the nation thinking, emoting and talking like few other Australian ads do. Sam Kekovich has been the 'face and voice' of the ad for years, typically poking fun at some section of Australian society and somehow relating their failings to the lack of lamb in their diets. Often controversial, there's no doubt the lamb ads get most of us laughing and maybe even trying to add a bit more lamb into our diets.
This year's ad departs from a tried and tested formula again (Lee Lin Chin starred in the ad one year, I seem to recall) and features Kekovich in only a cameo role. But don't let that deter you from watching and rewatching it. In two minutes and 36 seconds, 'You Never Lamb Alone' manages to bring more Australians together than any government policy in recent history. Australians of different ethnicities, those who are the original custodians of our land and those marginalised because of their differences are represented in the hilarious ad with humour and a sense of dignity that manages to avoid being patronising. If you need a little boost to your pride in our nation, then this is the ad for you this January.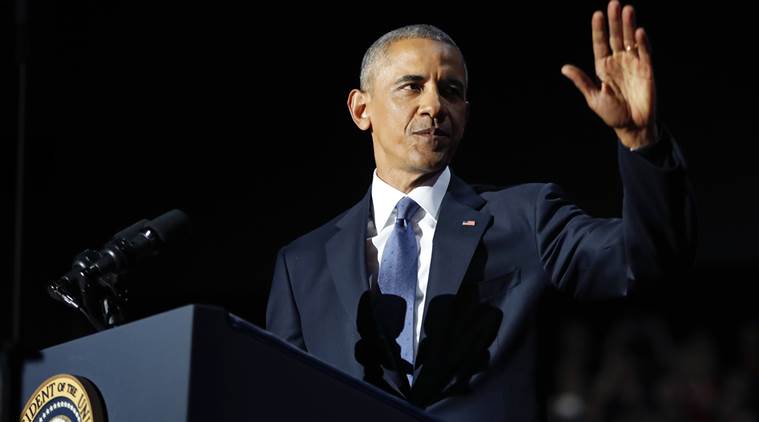 www. indianexpress.com
'You Never Lamb Alone' is everything right now for a country that, it's granted, will not be seeing Mr Trump as their president but nevertheless is just a bit sad about the looming end of the Obama / Biden administration and all that those men and their families represented of the United States. Many may not agree with their politics, they may debate just how great they made America in their time but there's no denying that both men are assets to their country. They brought dignity, intelligence, eloquence but also an approachable, 'of the people for the people' quality to office. They and their families inspired many around the globe to simply be more and be better.
I can't bring myself to watch their final addresses to their nation and I probably will not be watching any presidential broadcasts for the next four years. Unless it's the Saturday Night Live version...
Despite the long shadow cast by the forthcoming change in administration, life has carried on and my focus has been on the good.
Preschooler SSG and I took advantage of the relative coolness of a 27C that follows a 43C one and went to the zoo. On our way, we stopped in at the newly renovated Gateway building opposite Circular Quay. The ground floor has been completely transformed and it looks as if all the latest and greatest food retailers in the city have an outpost in the building. Well worth a visit if you work in the area or even if you work closer to George Street. To escape the construction site that much of the CBD seems to have become in recent weeks.
Don't ask how we ended up at Maccas next door for brunch... Oh, all right then, I'll go ahead and tell you. Those hotcakes and hash browns were some of Preschooler SSG's first foods. In a family full of allergies, my dodgy reasoning somehow concluded that the highly processed buy also manufactured under highly regulated conditions kind of food that McDonalds serves would be a pretty safe range with which to introduce a then infant to solids. So far so good.
And then we were finally at our wharf waiting for the zoo ferry. The more of these cruise liners I see docking in Sydney, the more I want to book myself onto one.... The ships these days look like floating hotels and everyone seems to be having so much fun on them. We got waves from cruise ship guests as we sailed on past them in the ferry.
Perhaps it's because of the frame of mind I'm in whenever I go to the zoo or perhaps it's because Taronga zoo is just a perfectly fabulous place but every time I've been has been wonderful. No matter what the weather, no matter which animals we visited - it's always been a pleasure to be there for both myself and Preschooler SSG.
This time, we began by checking in on the elephants before getting in early for some great seats for the seal show.
Then, as it got hotter, we found the playground and adventure trail next to the walk in lemur enclosure.
There was plenty of shade and some coolness from this waterfall.
Limited numbers of visitors are allowed into the enclosure at any one time.
We were able to get so close the lemurs.
With their expressive eyes and statement patterned fur, it was impossible to get a bad iPhone photo of them.
Our last stop for the day was the farmyard education centre and petting zoo.
We missed the opening time for some up close time with the animals but there was plenty to keep Preschooler SSG occupied.
There were also a disconcerting (for me) number of free range lizards roaming the area. And they weren't just the tiny ones that are the bain of my existence at home. Preschooler SSG was so taken by the lizards, he wanted to buy a life sized toy one to bring home. Fortunately, I managed to talk him out of it.
Have you seen this year's lamb ad? Yay or nay?
Cruises? Love them or leave them?