Preschooler SSG and I have been reading more than usual these last few weeks. The days are shorter and once it gets dark I immediately think 'bed time' but Preschooler SSG thinks otherwise. A few good reads in bed before lights out has been our happy compromise. I thought I'd romantically theme today's book reviews around travel. It's going to be the theme for many of us as we head into the long Easter break.
We're not straying too far from home in a physical sense but I'm determined to make the most of our staycation with drives around the city, trips on trains and scooter rides here and there.
Preschooler SSG's current favourite book is the 'Wind Up Plane Book' from Usborne which you can purchase from
The Book Depositary
for just under $25AUD.
It's a must have for the little plane enthusiast in your life because it goes behind the scenes of each stage of the flying process. From the airport to the cabin as well as a look at the world of the flight and ground crews.
This is the wind up plane of the book's title. There are three 'tracks's for you to 'fly' the plane along within the book. Aside from the novelty factor of the toy plane, the book itself is an interesting read. Usborne have quite a few interactive, hard covered 'fact' based books and I'm looking forward to ordering more for our collection at home.
via Facebook
Now that we've boarded that plane, let's stop off in Brooklyn, New York. It's the setting for Emma Straub's second novel, '
Modern Lovers
'. Elizabeth, Andrew and Zoe are upper middle class and middle aged. They were classmates in college and formed a band with Lydia who is only described in the novel as she died of a drug overdose some time ago. Set in Ditmas Park, the novel explores love through the ages as the classmates struggle with the direction their respective marriages are taking (Zoe is married to Jane and they run a restaurant together while Elizabeth and Andrew are a couple).
A counterpoint to their lives is that of their children, Zoe's daughter Ruby and Harry who is Elizabeth and Andrew's. Ruby and Harry are about to finish high school and head onward to university. Except Ruby isn't sold on this plan. She deliberately fluffed her college applications and now must take a summer course to see if that will help. Harry also finds himself in the course. A relationship develops between them as their parents' struggle to redirect their own relationships.
It's an often darkly humorous parallel journey these two generations take together but also somewhat apart as they approach decisions with vastly different life experience and social context. Straub has an eye for the minutiae of life in the 2010s and delivers these observations with sharp humour that manages to hit its mark and provoke thought without being caustic.
All of which is the perfect segue to these gratuitous photos of my rather limited time in Brooklyn that one time back in 2015. I was there with my friend for a day and we didn't venture much beyond the bridge.
We marvelled at the views and we marvelled at the bridge.
We had burgers and shakes somewhere too. But we ran out of time to stop by places like Ditmas Park to blend into the sidewalks, gaze up at the buildings or get lost in the maze of the local supermarket. Brooklyn seems an antithesis of Manhattan. While I love (the idea of) Manhattan, it's a relatively open book to me with all the attention it garners in the media, literature, popular culture, film and art. I don't know when I'll next be back in New York (soon, I hope) but I intend to spend at least a day or two in the Brooklyn area.
The next literary find I have for you today takes us back to the lower north shore and surrounds of Sydney. I seem to be on a Moriarty sister binge at the moment. Did you know that Nicola
is the youngest sister of Liane
? I really should have guessed because I had this sense returning to a fmailiar place and hearing a familiar voice as I read 'The Fifth Letter'.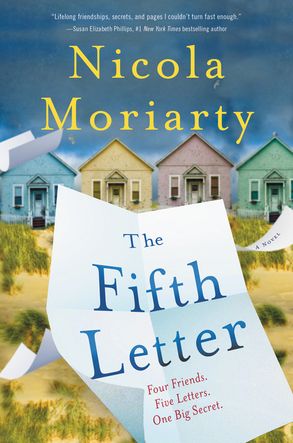 www.harpercollins.com.au
Set around the north shore and my home turf of the north west, 'The Fifth Letter' is a suspenseful read that makes over the Cathy Kelly style of 'chick lit' and gives it a bit of that domestic noir feel that we're all loving right now. It's the story of four girls who've been best friends at high school and have now seen each other through new jobs, partners, husbands but now seem to be drifting apart.
Joni decides to try and bring everyone closer together by planning a getaway for the four friends and asking each to write an anonymous letter about a secret they've kept from the group. Revelations are shared over the weekend which cause anxieties and tension within the group as each woman seems to have cause to resent at least one other in the group. Then a fifth letter surfaces (retrieved in full from the AirBnB's hard drive by Joni). Who wrote it and why do they hate a supposed best friend with such passion?
It's hard not to read 'The Fifth Letter' in one sitting. Moriarty has an easy and engaging style. At times it gets a bit wordy and dramatic (pot kettle black....) but sometimes that's just what a girl needs to read at the end of a busy day in the suburbs. Sort of their life but different by way of all sorts of unresolved tension and long buried secrets.
www.goodreads.com
So of course I then had to download '
Paper Chains
' the moment I finished 'The Fifth Letter'. It's a gear shift from the comfortable suburban lives of the four girls who make up Joni's clique. Hannah is an Aussie living in London when she meets the vivacious India. They become firm friends but there's something about Hannah that doesn't ring true to India and she sets about trying to find out the truth behind Hannah's obsession with routine, running and self denial.
Hannah eventually returns to confront her past in Sydney (at Luna Park in fact) and shakily rebuilds the relationships she left behind. India returns to her life in the most roundabout way involving the letters which make up the paper chains of the title.
India has her own issues to confront. Her return to Australia sees her return to her childhood home to make peace with the actions of her mother, acknowledge the grief surrounding her grandmother's death and also possibly to find the lover she thought she'd lost. All of which has to be done on borrowed time. I got a bit teary towards the end myself.
Have you read any of Nicola Moriarty's novels yourself?