You know when the highlight of your Sunday morning involves you sitting in your car trying to work out a back street route to school based not on the advice of Google Maps but rather on the wonky line of your yellow highlighter?
You don't?
Well, allow me to elaborate.
The streets to Preschooler SSG's school were strangely empty as I attempted to make the route I had planned happen. It didn't end well. What I thought were tiny unnamed streets on my map were actually pockets of land between houses which, sadly, are yet to be converted to roads for my personal convenience. Don't you hate that?
Long (and possibly pointless) story short, I finally worked out a route from home to school that I've committed to memory on the strength of the route involving a very distinctive roundabout as a reference point.
My next challenge is to convince myself that there is enough room on this narrow side street for an entire junior school's worth of boys to be safely dropped off at and picked up from on a daily basis. I'm getting palpitations just thinking about it. I think I might be safest following
Faux Fuchsia's
sage advice and park a few streets away before briskly walking to Kindergarten. Looking forward to all that incidental cardio I'll be getting next year. I just have to remember to include a hill or two in my route.
I wore my dayglo blue trainers to the gym this morning. Nothing much more to say about this except that the Vomeros are a lovely (for want of a better, more 'fitness' word) shoe to run in. Lots of support with a firm hold both of your feet and between the shoe and the treadmill.
In other exciting news, I managed to get myself to the car repair place via The Eastern Distributor (To Hell... my parentheses) and get both a major service done and my vehicle safety inspection checked off for next year's registration. Plus while I waited, I did such things as catch up with work reading, finish reading my current novel and muck around on social media. Productive morning.
Not much to report from work except that I had enough time yesterday to label my personal bottle of lemon juice (the one I took 20 minutes to find at Woolies the other day) for the work fridge. We have this rule that anything that isn't labeled and in the fridge on a Friday gets binned by our cleaner. It's working a treat and we have one of the cleanest fridges on level six.
I'm slightly devastated that my local Woolies has run out of their own brand of barley sugars. It's an unusual thing to be running out of if you ask me. I wonder if someone's on a tight budget for Halloween candy this year? Or perhaps barley sugars are having a superfood moment.
New in the shower caddy is a cleanser from London cosmeceutical brand,
111Skin
available at Mecca online and instore. At $83 (!?!?!!? what was I thinking... actually I probably wasn't at all) it's one of the cheapest things in the range, face creams being in the region of a thousand dollars (!!) upwards. There are so many things to love - the word cryo in its name, the fact that it's a cleanser and toner in one, it's elegant scent.... I'm enjoying it so far but it's too early to tell if it is 300% more efficacious than your standard $30 cleanser.
My last bit of news for today isn't just that Aldi Eastgate has plentiful stock of these French pastries (they make an excellent preschooler breakfast if microwaved for 8 seconds precisely by the way) but also what I discovered just a few steps from the store on the upper level of Eastgate Shopping Centre....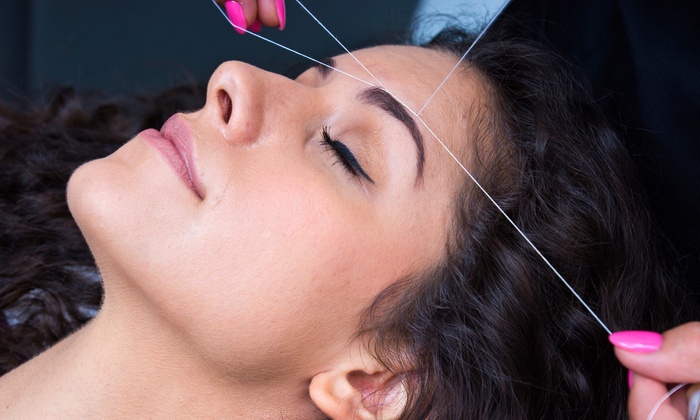 via google images
A threading kiosk!!!!
Access to a threading place has been my one frustration since I moved over here. It appears that the folks around here don't seem to love threading as much as they do where I used to live. You can get everything else done to your brows on the east side but get them threaded at your local shopping centre. Anyway.
Elegance Brows
are your people if you're a blow in like me who loves getting their brows threaded while you're at the shopping centre in search of things at Aldi.