Greetings from the newly organised bibs and bobs shelf. All my favourites have their place and because they're all housed in clear drawers, I can see exactly where they are as well. There's no hiding from me during the workday morning scramble anymore. I'm still miles away from having a Pinterest worthy dressing room but it's a start.
The organizers are currently available at MINISO for the princely sum of $6.99 AUD. I bought two and they stack on top of each other perfectly.
This is what an individual 2-drawer organizer looks like in the sun. With bonus rainbow refraction of the light. There is also a square shaped 3-drawer version (which doesn't neatly stack with these ones, unfortunately) as well as smaller units for makeup storage.
I pattern clashed my outfit for work on Monday. It either an inspired or sleep deprived fashion moment for me but gee it felt good sipping my double shot skinny cap in its Keep Cup that perfectly matched my clothes.
via Getty Images
I'm not quite at JLaw level in terms of having a fashion moment with a beverage in hand but I'm a mean study.
via ABC New Australia
The world loved Nicole's gown but I'm not convinced. She looks stunning though.
via Who, What, Wear
My favourite from the night (besides Jennifer's) was Margot Robbie's Chanel. I love that hair too. Wonder if my hairdresser would be open to similar on mine when I pop in next week....
In a world far, far away from Hollywood Award ceremonies, I've been spending my evenings repurposing Mecca Cosmetica shopping bags. They're so sturdy they can survive weeks of use transporting stuff to and from school via backpack. They're latest job was delivering these contributions to the classroom sound table safely.
Mecca is also generous with their samples and this has proven, yet again, to be my downfall. I loved my sample of NARS' Smudge Proof Eyeshadow Base $37AUD) that I saved the sachet and shopped online for it in the early hours of Sunday morning.
It, along with two other necessary purchases arrived at my place Tuesday. The Hourglass Ambient Lighting Palette ($90AUD) is spendy but worth every penny, I got close to a year's use out of my first one. MAC's Fluidline gel liners ($35 AUD) give my upper lash line Hollywood worthy oomph and this particular shade is a deep brown called Lowlights. Fluidlines are a cinch to use, don't dry out as quickly as the cheaper competition and can be used on the waterline without giving you teary, red eyes.
I also received an interesting range of samples. I've heard lots about Drunk Elephant skincare so will be using this cleanser sample with interest. I'm also curious about the Too Faced Born This Way foundation. I don't normally use foundation but perhaps the claims of this one could sway me.
It hasn't all been clothes, makeup and shopping around here. Impossible things have been achieved like finding the end of this roll of Micropore and being able to fold it over before I lost it again. Micropore is the best for helping character bandaids stick to kindergartener cuts and abrasions.
The primary reason I was at Woolworths wasn't to unravel that roll of tape, it was to find tortillas to go with my Mexican pulled chicken. There isn't even a recipe for my pulled chicken. All I did was combine chicken breasts, a sachet of taco seasoning, one small can of crushed tomatoes, onion and garlic and let it all cook on low for around 4 hours. When the chicken's cooked, tease it and return to the slow cooker and let it all heat through again. I added some barbecue sauce and soya sauce at the end for flavour.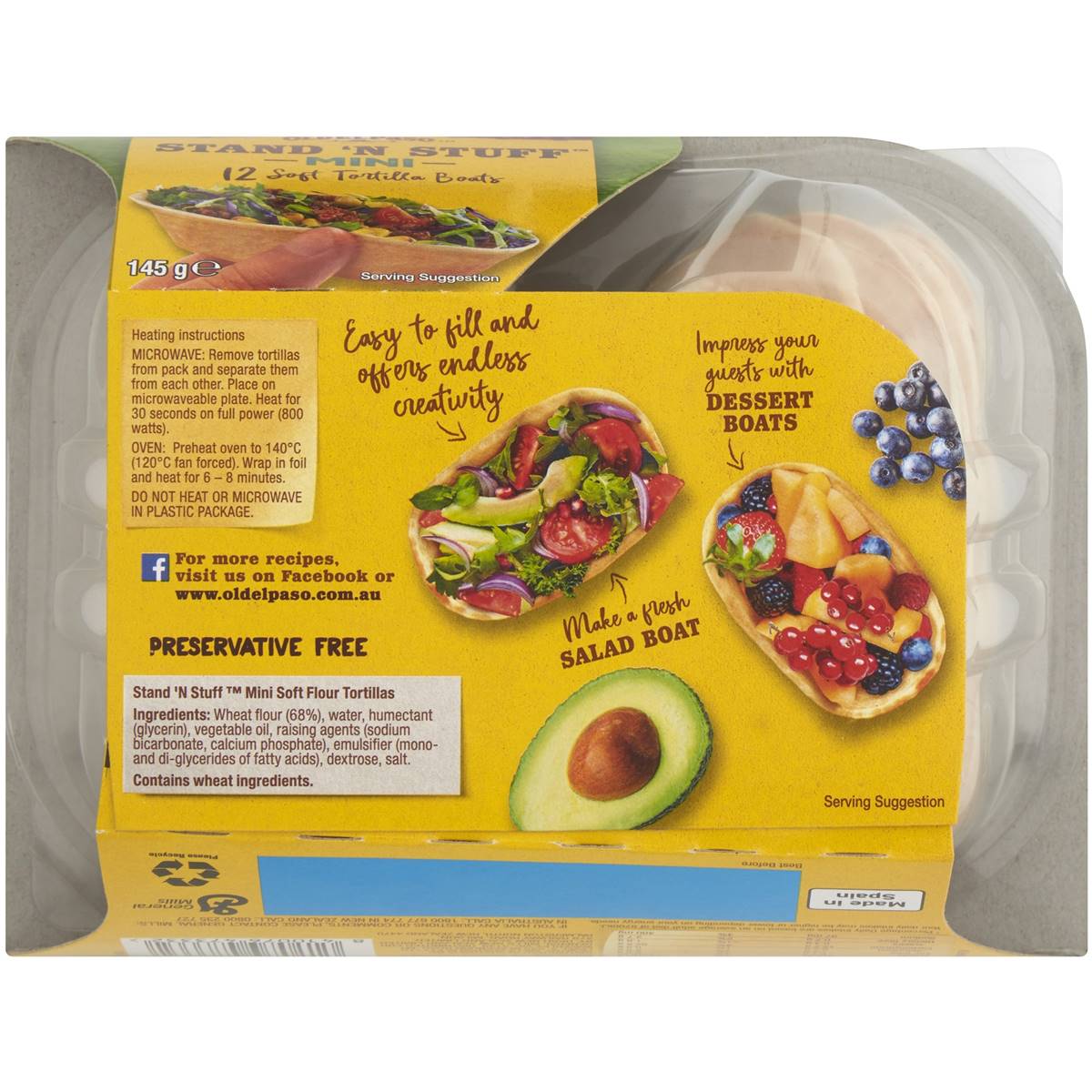 via Woolworths
These are the mini Stand'N'Stuff tortillas I bought for Master SSG. They're around $5 a pack.
I ate my pulled chicken on a larger tortilla with a mountain of things including... avocado from a tube. I expect to be judged for that.
Master SSG loved his 'taco boats'.
He even added lettuce to his.
Which made me so happy that I took two photographs of him putting together his dinner.
I wonder if taco boats will help him learn to like bolognese? It's worth a try.