Winter weekends in Sydney are pretty special at the moment.
Sure the nights are freezing (by Australian standards) and some of us need to dress as if we were hitting the snow when we go running in the morning on suburban streets but once you get past all of that, this is what you're blessed with. The bluest skies and sun against the bare branches.
Winter makes me feel as if I've earned myself a Saturday bacon and egg roll at the farmer's market. Instagram is flooded with photos of people breakfasting in Italy at the moment but to me, this view was just as magnificent because it was accompanied by that aforementioned bacon and egg roll, an excellent coffee and the prospect of a whole day of freedom to follow.
I know I should have bought my fruit and veg while I was there
but I'm low key obsessed with Coles' Little Shop at the moment.
I'm making slow progress.
Even if I don't get to collect all 30 minis, I will consider it all worthwhile if I at least get the TimTams and the bananas.
In other news from the world of adulting, I finally did it. Got that eye test and retinal scan. I don't know what I was so scared about (actually I do but none of it eventuated) but I got the all clear. Even better, I got to choose new frames straight after my appointment. I'm going for statement specs in case you hadn't already noticed.
My reading world has been a bit lacklustre recently. Novels I had high hopes for but have taken ages to finish. I've begun to like the main characters of one series (
Stephens and Mephisto
of Elly Griffiths' other 'non Dr Ruth' series) so hopefully this bodes well for me to download a few for my next series of long haul flights in ... 69 days.
But then my Facebook feed came to the rescue.
via YouTube
Did you know that Anna Kendrick and Blake Lively have a new film coming out? I saw the very slick trailer on my feed one morning, clicked and then found myself down a rabbit hole googling the novel upon which the film is based.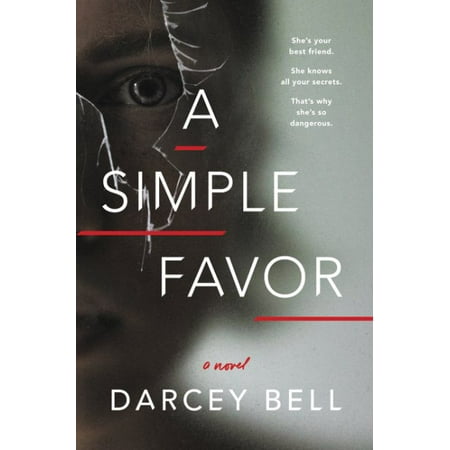 via Walmart.com

'
A Simple Favour
' is a domestic noir novel by Darcey Bell. It tells the story of 'mommy blogger' Stephanie and how her quiet life as a young widow in suburban Connecticut finds colour and brilliance when Emily befriends her. Emily is the glamorous mother of Stephanie's son's best friend. Stephanie and Emily become good friends but one day Emily goes missing and Stephanie finds her life unravelling.
The unravelling is both good and bad in Stephanie's eyes. The fall out from Emily's disappearance proves to be excellent blog fodder and helps Stephanie galvanise the support of her loyal readers as she shares details about how she and Emily's husband Sean are coping with the boys in the wake of the drama. And then there's the initially unresolved sexual tension that smoulders between Stephanie and Sean....
Opinion on 'A Simple Favour' is divided for both critics and readers alike. Common themes in the negative reviews are that the novel is poorly written and the plot twists so predictable you don't even have to google for spoilers as you read. Those who enjoyed the novel praised the suspense factor and creative use of narrative structure. The story is told in part through Stephanie's #soblessed blog posts which provide an ironic foil to what's actually going on in Stephanie's mind and life.
I'm turning pages compulsively and have a foot in both camps. Bell's writing isn't as polished as other authors in this genre but she can plot twist with the best of them. I'm also a fan of both Anna Kendrick and Blake Lively. The film's trailer has me intrigued as well. Both factors have influenced / biased my feelings toward 'A Simple Favour' the novel.
Are you collecting Coles' Little Shop minis? Which ones are you hoping to find?
Have you read 'A Simple Favour'?