It's not often the worlds of myself and a Kardashian and a Jenner collide but it happened last week. And here's the low down.
via Google images
The Kardashian moment featured Khloe, my favourite of the sisters K. Did you know that Kardashian Cookie Jars are a thing? Apparently so and there's a YouTube video (of course) from Khloe herself showing you how to get the look at home.
And here I am nowhere near nailing it.
I don't have the foot traffic through my kitchen to justify buying 4 packets of Oreos on a monthly basis like Khloe does and I have this thing about air tight jars for biscuits. Hence this repurposed Moccona coffee jar full of one packet of Iced VoVos.
Here's a visual of the disordered interior of my cookie jar just in case you needed further confirmation.
My Jenner moment related to Kylie. Vogue Australia's September issue featured Kylie on the cover as well as a free Kylie lip kit. The magazine has been selling like hot cakes and I think it's got a little to do with scoring $39 worth of makeup for free with a $13 magazine.
via Google images
I got the Maliboo set which features a matte liquid lipstick and matching lipliner. May I confess just how pleasantly surprised I am with them both? The lipstick lasts practically all day and isn't too drying. It has the perfect texture for fuss free application being neither too thick or watery. It's just the sweet caramel scent that takes a bit of getting used to but it isn't noticeable once the colour is on your lips. The lip pencil applies smoothly and strongly with a creamy texture.
I pondered the accompanying magazine from cover to cover. Was Kylie's bottom half for her cover photo mis-edited? It looks a bit back to front to me. There were several arresting editorials somewhere towards the back of the magazine, you just have to get through pages and pages of adverts to find them.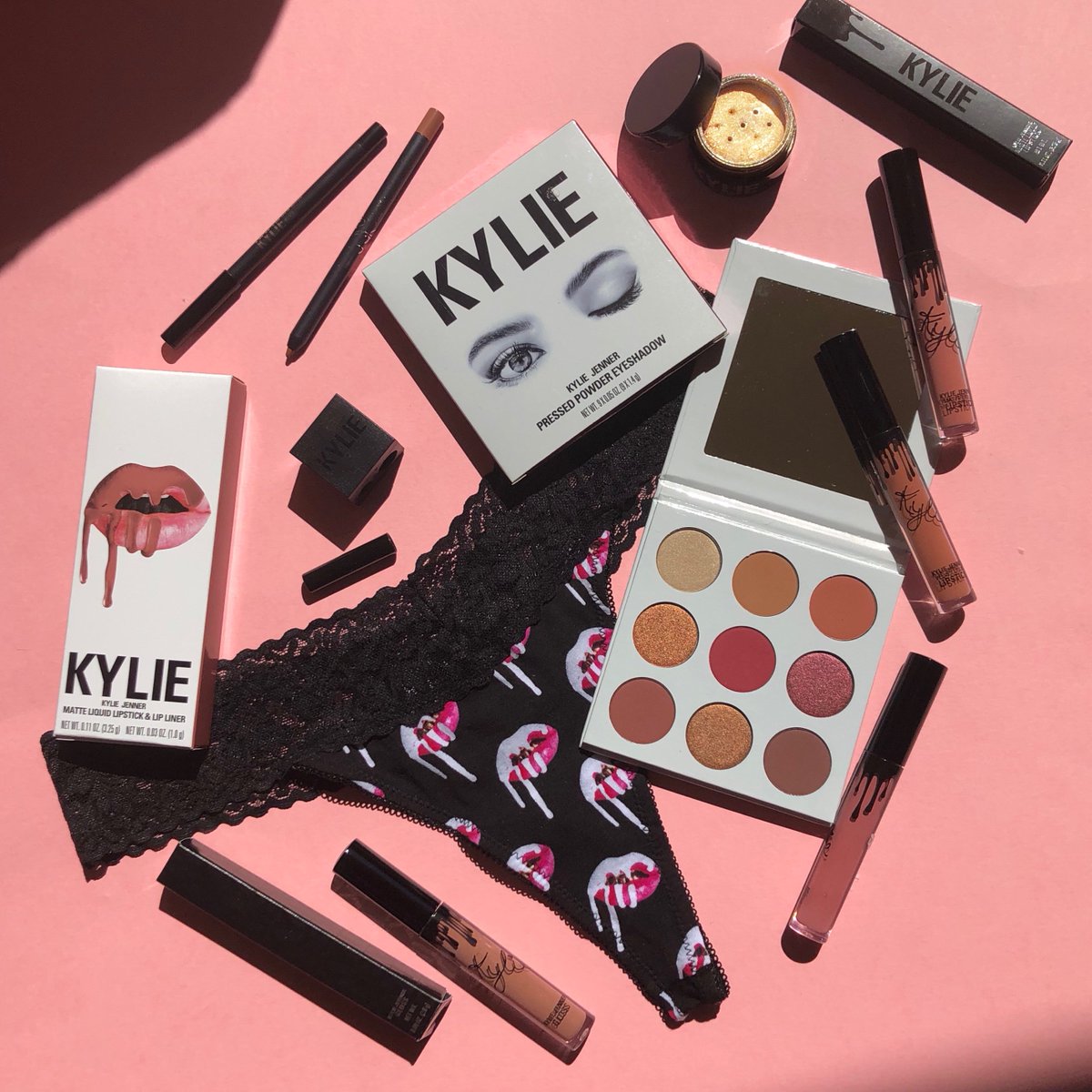 via Twitter
Say what you will about the Kardashians and Jenners but they own cross-marketing and branding because guess what? Your favourite fortysomething 'life as it is' because it's not often 'life styled' / mummy / beauty / 'writes about her clothes with more attention than they deserve' fashion blogger then toddled off to the official Kylie Cosmetics site where she found the above
beauty bundle
. It's the Kylie's August Favourites promotion and costs $100 USD. Reader, I clicked and bought. With each lip kit costing $29 USD alone, there's definitely a lot of value to be found here and the colours look like ones that would acutally suit me. There's currently free international shipping on orders over $60 USD.
I also do not know what I'm going to do with the underpants included in the set. They don't really look as if they'll go much past my knees....
I'll be sure to post a review when my bundle of Kylie Cosmetics arrives. I just might not have much to share about the undies.....
It's been all about the makeup around these parts. My half price Naked by Urban Decay palette arrived and I'm loving it excessively. Though there are more shimmers than mattes, the shades actually work really well on this mature (in years, mostly) face.
Book Week 2018 has come and gone.
There was a sub theme, something about finding your treasure (I think) but I brazenly overlooked this and steered Master SSG towards one of my favourite picture books as our inspiration. The internet provided the Crayola costume and the rest is history. I'm starting as I intend to continue with Book Week, it's going to be 100% outsourced costumes for me.
Besides the parade, the highlight for Master SSG was getting to meet Matt Cosgrove, the author and illustrator of
'My Dad Is A Robot'
.
via Booktopia
Matt gave a talk at school and also signed books for the boys.
Our copy of Robot along with it's Macca the Alpaca drawing has travelled with us everywhere since it came home from school.
Have you attempted to recreate Khloe's cookie jars yourself? Which biscuits did you use?
Kylie Cosmetics. Yay or Nay?
Did Book Week touch your life this week?