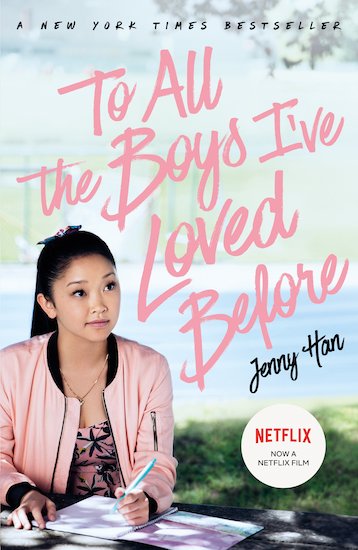 via Google images
Hello, I'm Sydney Shop Girl.
I'm 43 years old with a busy life revolving around parenthood, work, trying not to click 'pay now' for too many of my virtual shopping baskets and trying to achieve a run life balance.
I've also rediscovered young adult romance fiction.
'To All the Boys I've Loved Before' is currently a Netflix film that's taking the world by storm and the film was based on
Jenny Han's 2014 novel of the same name
. Briefly, Lara Jean Song Covey (pronounced to rhyme with 'lovey' and not the bird) is a Korean American teenager who lives with her widower dad and two sisters. The three sisters are very close and since the death of their mother, have been extremely protective of their dad who often works unpredictable hours as an obstetrician and gynaecologist.
Lara Jean has never truly been in love. By her own admission, she's had a few crushes including one on her older sister Margot's ex-boyfriend Josh. Josh wasn't only Margot's ex, he is also a dearly loved 'adopted' son'/big brother of the Song Covey family.
To deal with her crushes, Lara Jean writes letters to each boy. Her theory is by getting out all her feelings on paper, she can then seal the envelope and move on. The letters get stored in a teal hatbox given to Lara Jean by her mother. While the letters are addressed to each crush, they were never intended to be sent. Only someone does send them without Lara Jean's knowledge and most of the letters find their subjects with interesting and very YA fiction type consequences.
And here I am avidly reading about Lara Jean's teenaged world and not even being remotely embarrassed to admit it. Each awkward encounter and slightly self-obsessed and self-conscious thought takes my mind back to my own world as a teenager. And the sarcasm. Oh the sarcasm. Did we all act that way out of self-defence or to appear more self-confident or a bit of both? Whatever the reason, I had no idea how cutting teens can be. How I was. I expect it will all came back to haunt me when I become the parent of my very own teenager...

It was a world of simpler times even though it didn't feel it at the time. Family, school, friends - it was a bubble and a safe one at that. At times it felt boring and a little too safe but I look back now and treasure that time of my life because it is part of who I am now.
It's not that I'm nostalgic for my teenaged years or that I wish I could go back and live those years again, but 'better' but reading 'To All the Boys I've Loved Before' brought me back to those days of crushes and distinctly PG rated PDAs. And for this woman who gets secondhand embarrassment for everyone involved with the Bachelor, that's something lovely and strangely touching.
Do you ever read young adult fiction? Does it take you back in time as well?