I was Apple fangirling with the best of them yesterday afternoon from around 5.01pm EST....
I was, of course, refreshing the screen on my existing iPhone obsessively to be among the early birds to score a presale for the latest generation of iPhones. I'm sure there were lots of other shiny new Apple things launching at the same time but for me, it's all about the phone this year. I've been barely functioning without a working front camera on my current phone for around six months now and I'm amazed that I've gone so long without caving in and either fixing my current phone or trading in for a new one before now.
via Twitter
The only thing is that there has been a price for breaking my relative silence on Instagram... have you seen what they're wanting for iPhones these days?!?!
Master SSG had his first athletics carnival on Friday. He was so excited and had so much fun. The emphasis was on participation and the carnival featured a series of activity stations where everyone had a go while the teachers tried their best to make sure the boys stayed on task.
It was really lovely seeing the boys from the older years at school being so helpful and supportive of kindergarten and year 1. They were on hand to keep the little ones on track as they ran their two lap 'long distance run' and were there to hand out ribbons at the star event which was the sprint. Everyone was timed prior to the race so that the heats would be evenly run and no one would be too far in front or behind the others in their race.
My friend and I ran the mums versus teachers 100m relay. We were narrowly pipped at the post by the teacher team. It was our baton passing technique that failed us and I'm hoping we can improve on it for next year's race.
Last but not least on today's agenda is a follow-up post on my recent Kylie Cosmetics purchase.
To recap, this all began when I was one of the lucky few to get a first run edition of Vogue Australia's September issue with Kylie on the cover and a free Lip Kit attached. The issue sold out and while the magazine got reprinted, the offer didn't seem to continue with the reprint. I was so pleasantly surprised with the performance of the Maliboo set that I got that I ended up purchasing the August Kylie's Favourites bundle for $100 USD. Shipping was free and prompt.
Of the ten items in the bundle, I've tried the Kyshadow palette and the Angel lip kit and thought I'd share my thoughts after a fortnight of testing. Both products are made in the US. While the matte lipstick has that trademark caramel scent, the eyeshadow and lip liner are unscented.
www.kyliecosmetics.com
May I begin by saying that I didn't have high expectations for the
Kyshadow Burgundy Palette
. It retails for $29 USD against Urban Decay's Naked series which retails for $54 USD.
My cynicism related to:
- the cardboard packaging, why do premium make up brands persist with cardboard to house their product?
- the price difference between Kyshadow and the UD palettes, did the relatively nice price imply that things like texture, blendability and wear time would be compromised?
- I'm just a fussy eyeshadow customer. I like certain brands and have an immediate and internal bias to any brand that isn't UD, MAC or Too Faced.
www.kyliecosmetics.com
Turns out the jokes on me because even cynical internet beauty identity Jeffree Star
loved the palette
both for its range of colours and its quality.
Here's what I loved:
- the colour pay off
- the fact that the darker shades didn't get muddy with blending
- the shimmer of the shimmery shades stayed true on me for 8 hours
- that the colours suited me and while I felt a bit Kylie on the inside as I applied my Kyshadows, I fortunately did not end up looking like a middle aged parody of her. The burgundy palette enabled me to get a bit creative with my work make up without getting inappropriate about it.
What could have been better:
- one or two more paler, highlighter shades because the majority of the palette is quite dark and intense. I found what I was looking for in the rest of my eyeshadow library.
- the shadows are a firmer consistency and while this meant that there was less kick up on application, I found then hard to work with to line with.
But in summary, great product at a great price. The Kyshadow palettes now feature quite a wide range of colour themes and singles have recenty been added to the range. With periodic free international shipping promotions and the periodic bundled item promotions that feature the Kyshadow palettes, I'll be checking in regularly to see which palettes feature in promotions.
www.kyliecosmetics.com
The
Angel Lip Kit
($29 USD) is a mauvy pink matte and works well as an everyday colour for me.
www.kyliecosmetics.com
While the mattes can be a bit drying (based on appearance rather than the feel which is surprisingly light), they do last all day and when they dry, you can apply clear gloss over them without any colour transfer to the applicator of your clear product. The matching lipliner has a creamy consistency but was firm enough to get precise and even coverage and that all important lip line definition.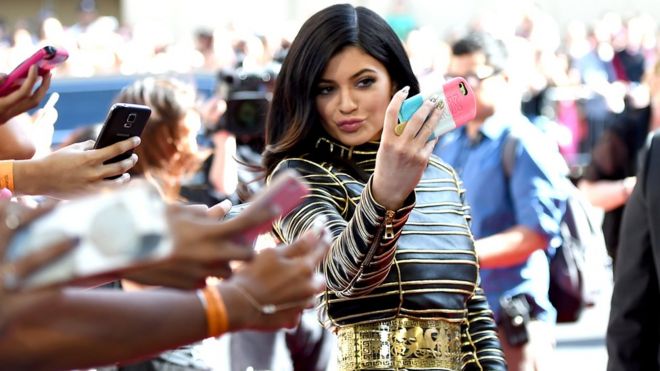 via Google Images
So here I am. An unlikely fan of Kylie Cosmetics. Who would've thought?
Have you tried anything from the Kylie range?