Today I'm loving the fact that I have created order out of the chaos that was previously the section of my desk devoted to charging cables.
I don't have the 'before' photo but I am pretty sure you can imagine it.
It's ironic, isn't it, that while technology streamlines and organizes so much of our world maintaining and storing devices often adds more physical clutter to our lives. The more devices we have / need, the more cables or charging stations we have to find room for. Those wireless docks are all well and good but you often need to take things out of cases to make them work which kind of defeats the purpose.
My workspace has gradually taken on the appearance of a table of spaghetti as more and more cables have been added to the mix. Fortunately, most appliances have the same charger so I've gotten by with simply attaching whatever I needed to charge with the first available charger I could untangle.
But then I went to Kmart (as so many good stories on this blog are wont to begin).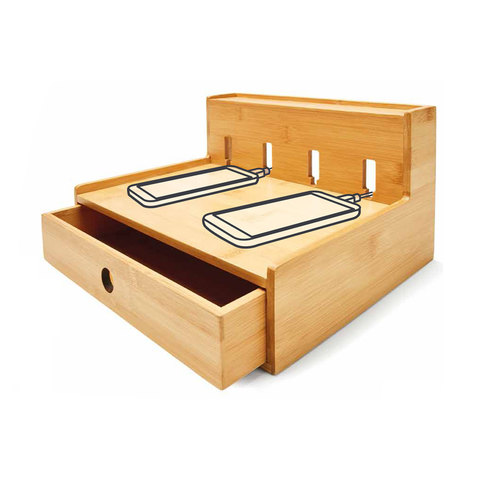 via kmart.com.au
And saw their range of bamboo tablet and smartphone organizers.
This particular version
retails for $25. It has space for four cables along the back and a large shelf area to place all your devices on. There's also a pull out drawer beneath. Ours is currently filled with a variety of Master SSG's 'treasures'. The handy ledge above the cable area is wide and sturdy enough to house a wireless speaker. No assembly was required for this particular unit, Mine currently takes pride of place between a couple of desk organizers I also purchased at Kmart.
Is Kmart the new Ikea, I wonder?
Do you have any finds from Kmart at your place that have helped restore order where there was once chaos?