Berlin is a city that's made for walking. The sidewalks are wide with designated lanes for cyclists and sets of pedestrian specific traffic lights at major intersections. I've never been able to take photos of the pedestrian lights because I'm always just lucky enough to make it across the intersections without coming to any harm or losing a body part. It's not that drivers are particularly bad here it's just that it's so confusing trying to look at what both sets of lights are doing as well as at your printed map. How people travelled to foreign cities without Google Maps I'll never know....
I'm giving myself a huge pat on the back for getting my holiday wardrobe so on point for this trip. Trainers or your sturdiest shoes are the best thing you'll bring with you to Berlin. While those cobbled footpaths look quintessentially European and exotic to this Australian, they can also be a tripping hazard if you're hurrying along being a tourist.
The S and U Bahn stations are worth half a post of their own.
They're diverse microcosms of Berlin that punctuate the artery like railway lines with colour, geometry and powerful reminders of the city's history. Some, like Hauptbahnhof take their responsibility as a major interchange seriously and are a combination of shopping centre, train terminal and food court all in one.
Other smaller stations like Kurfurstendamm feature a couple of kiosks on the concourse between lines and multiple connections to the road above with shops dotted along the way.
to tile patterned walls
and from ornate lead detailed glass windows
to skyscraper high piles of the Germanys favourite wafer biscuit (Ritter Sport) it seemed to me that no two stations were exactly alike.
Messe Sud was the S Bahn station closest to where my conference was located and I was surprised that it was the most unassuming of all the stations I've visited in the city. I walked straight past it the first time I tried to find it.,
It's an open-air station and it was lovely seeing the colours of autumn around me as I waited for the train back to Zoologischer Garten which is where I changed lines for the one that took me back to my hotel.
I got pretty confident with the S and U Bahn network by the end of my stay but I never did get brave enough to try the trams or buses. Next time.
I'm going to miss the bears of Berlin.
I've discovered all sorts of other interesting things on my walks through the city.
This cafe really is a Microsoft cafe and it's not just for employees of the company whose offices are above it.
They make a mean latte macchiato and have their own chai spice blend that you can shake over your coffee instead of chocolate powder. It's delicious and has a hint of almond to it.
They also have super fast wifi. It would be a worry if they didn't. It was ironic that I was sitting there FaceTiming Sydney on an Apple device...
Finding toilets as a tourist in Berlin is the kind of game you should only undertake if you like a challenge and have been in training with your pelvic floor exercises. The first rule pf day tripping in Berlin is that if you see a toilet, use it because you'll never know when you'll next find one.
I found the Lego Store on my travels and in true SSG form, it was harder than it looked from what I had mentally rehearsed from Google Maps. Story of my life.
The Brandenburg Gate.
But I got there in the end and was treated to the Lego spin on Berin.
The U Bahn network in Lego.
There was a large hands on area where kids of all ages made their mark on the walls and benchtops.
You can't escape Fortnite wherever you are in 2018, can you?
I bought this Berlin exclusive VW set for Master SSG as well as a desk calendar. We might even get through both over the rest of the holidays.
Tigger's been out and about and here's some higlights of his travels.
I've been sending the photos with messages 'from Tigger' to mum so Master SSG can read them and the review have been positive so far.
Tigger really is photogenic, isn't he?
He's such a natural in front of the camera.
Even his profile has presence.
And his Blue Steel just seems so right for every location.
The Kaiser Wilhelm Memorial Church was built in the 1890s and was badly damaged during the bombings of World War II. It's nickname with the locals is "der hohle Sahn" which means "the hollow tooth". It's a useful landmark for me because it's at the far end of the Kurfurstendamm and helps orientate me back to the hote from the shops and my favourite currywurst place (more about the currywurst in an upcoming post in this encyclopedic series on Berlin).
The Palace was built at the end of the 17th Century in the baroque and rococo styles.
The palace was commissioned by Sophie Charlotte who was the wife of Friedrich I, Elector of Brandenburg. That's a statue of him at the front of the palace. Friedrich was 42 when the palace was inaugurated. He crowned himself as King Friedrich I a few years later. Given his surroundings it did make sense, I guess.
I have no photos of the palace interior but rest assured it is a visual feast. The palace was renovated several times over the centuries as the Royal Family expanded. The bombings of World War II decimated much of the palace and the restoration process is ongoing. My favourite wing of the palace is the modern one which is airy and spacious and slightly more restrained in the interior design stakes.
That being said, my favourite room was in the old wing. Sophie Charlotte created a 'china room which was wall to wall bone china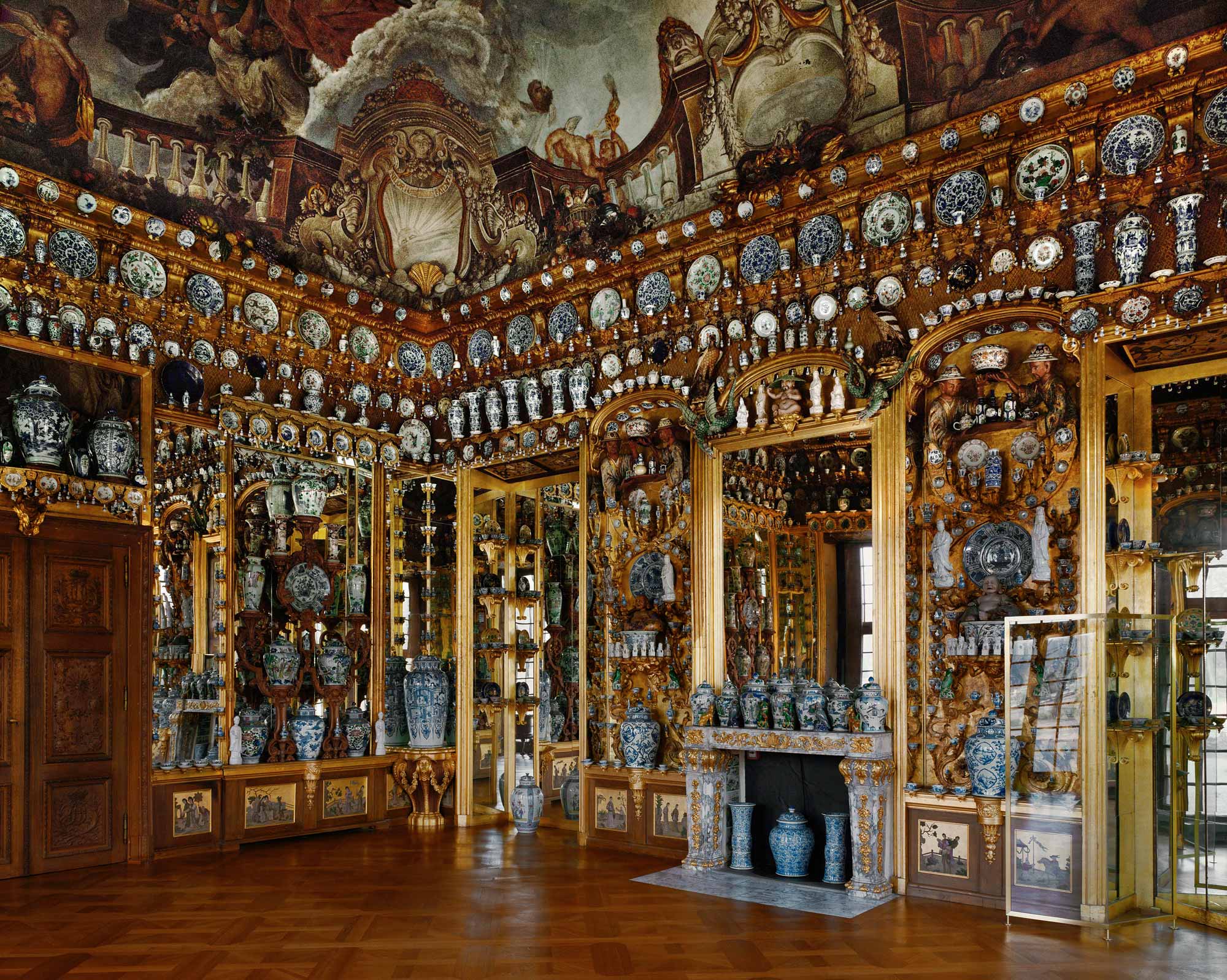 via Google images
Here's a visual. Not shown are the 3D sculptures that poked out from the walls to give the ceiling artwork a bit of oomph.
It was like taking a step back in time or being on the very perfect set of a BBC production.
How perfect was the sky? The day started off terribly. It was cold and grey but what a difference a few hours make.
The gardens were initially designed with reference to that of the gardens of Versailles. The current design takes its inspiration from English landscapes.
These photos almost look like paintings.
It really was magical.
'
We were ushered into dinner past these velvet curtains.
Candles were lit as the sun set over the palace.
Dinner was catered by the Marriot and it goes down in history as one of the nicest hotel catered meals I've ever eaten. You know how they tend to usually involve chicken breasts well....
We had salmon for the entree and duck for the main.
The dessert was also very un hotel catering like. That plate was as close to being licked clean as it could be in polite company.
The concert was held in a hall opposite to where we dined.
The orchestra and opera singers are members of the Berlin Residence Orchestra and performed in period costume. The whole experience was authentic without being touristy. The program was baroque and having the music performed in such an intimate setting (there were only about 50 of us in the audience) healed the lifelong issues I've had from being not particularly musical at a 'musical' school. I wasn't sporty at school either but somehow I got over that. Piano lessons and music theory though - I don't ever see myself taking either up as a retirement hobby but at least I have closure now through this concert.
And that, I promise, is all I have for you today.
Be well and there will be more from Berlin. Much more. Sigh.