Hair and makeup have taken a back seat (way, way out back if I'm to be perfectly honest) in these Covid times. In some ways it's been liberating. Gettting ready for work takes about 5 minutes from go to woah (confession... I always thought it was 'from woe to go'...). There's never fear of anything on my face smudging, flaking or creasing onto my face mask and beyond because all I wear for makeup is sunscreen and lip balm. As for my hair - it's ponytails and bobby pins for the win. Again, it's all about the mask, ponytails seem to fare better than a blowdry for a day at work these days.
I wish I could say that this newfound bare-bones approach to beauty meant that I was spending less in that department. You can't have it all, I suppose. If anything, being confronted by a bare face and plain hair each day in the rearview mirror of my car each morning has made me more focused on how my products are performing and also more curious to explore new things.
I might not have achieved much else with my time this pandemic but I have found a bunch of new favourites that deliver maximal effect for minimal effort.
Here's my hair and beauty highlights reel for Pandemic 2020....
Sunday Riley's C.E.O
. ($104 AUD for 50g at Mecca) - just typing C.E.O. makes me feel power, focus and success. C.E.O. is a vitamin C based moisturizer that promises to brighten and hydrate dull skin. It's delivering on both counts for me. The only word of caution is that there's no SPF in this product.
Which brings me to my next MVP of the season....
Mecca Cosmetica's own brand of tinted sunscreen,
In A Good Light
($40 for a 75ml tube, available in two shades, Light and Natural). It's SPF 30 and perfect for wearing to work because it doesn't colour transfer to clothing or masks all day long.
Next up is
Sol de Janeiro's Bum Bum Cream Body Scrub
($67 for a 220g tub at Mecca). What's not to love? The cheerful yellow packaging that screams by the beach in Brazil, that fragrance and, of course, the name. I'm smiling just typing it.
I know, I know. Do I shop anywhere else but Mecca these days? I do. At Adore Beauty, the home of the 'a Tim Tam in every box' parcels that also come laden with thoughtful samples and generous gifts with purchase.
Morrocanoil
($63.95 for 100ml at Adore). The OG Argan oil product that's ten years young. It just works - soft, shiny and manageable hair without buildup. And there's something comforting about the packaging. It's familiar, it reminds me of mum (who first put me onto it) and the delivery is no fuss. Just pump a little into the palm of your hand, rub with your other hand and then disseminate through just-washed hair.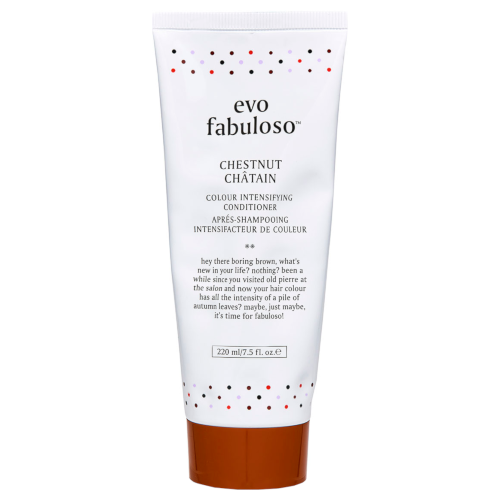 Evo Fabuloso Colour Intensifying Conditioner in chestnut
($39.95 for 250ml at Adore) promises to prevent your salon colour from fading to the shade of spent autumn leaves. It's so effective at colour deposition it might also be responsible for some staining in the bath. I use it once or twice a week, mixed in with plain conditioner. While it won't hide those greys, it does an excellent job of keeping my colour vibrant.
Have the current times changed your daily hair and makeup routine? What can't you live without right now?